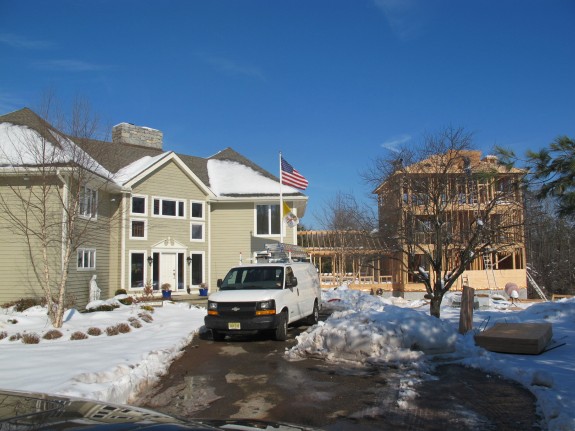 photo: Mark Mueller/The Star-Ledger
The 4,500-square-foot home sits on 8.2 wooded acres in the hills of Hunterdon County. With five bedrooms, three full bathrooms, a three-car garage and a big outdoor pool, it's valued at nearly $800,000, records show.

But it's not quite roomy enough for Newark Archbishop John J. Myers.

Myers, who has used the Franklin Township house as a weekend residence since the archdiocese purchased it in 2002, is building a three-story, 3,000-square-foot addition in anticipation of his retirement in two years, The Star-Ledger found. He will then move in full-time, a spokesman for the archbishop said.

The new wing, now just a wood frame, will include an indoor exercise pool, a hot tub, three fireplaces, a library and an elevator, among other amenities, according to blueprints and permits filed with the Franklin Township building department.

The price tag, the records show, will be a minimum of a half million dollars, a figure that does not include architectural costs, furnishings and landscaping…
…Myers' spokesman, Jim Goodness, said the addition will have no impact on archdiocese finances, saying the cost will be largely borne by the sale of other church-owned properties. Donors also have contributed to the project, Goodness said.

He declined to identify the properties to be sold or provide the amount of the private donations.

"There are not expected to be any expenses that can not be met by other real estate transactions, and it will remain an asset of the archdiocese," Goodness said. "It is not a personal asset."
UPDATE: Diane over at Te Deum laudamus has some thoughts:
Maybe after all of the facts come out in this case, the Myers retirement residence will prove to be modest.  I hope so…

I know some bishops have retired to rectories. Is this not a good use of diocesan money, to give a parish a modest sum of money to take in a retired bishop?

Once again, I understand that diocesan priests and bishops do not take a vow of poverty, but rectory living in most parishes is hardly poverty. The key word is freedom – freedom to participate or not.  However, I think rectory living could be encouraged by the USCCB in their guidelines.  What is the cost of putting Archbishop Myers in a rectory room within the diocese, or even in another diocese that is willing to take him in?  He may not get a jacuzzi, but he would have a bath tub like most of the population.

I do know that some retired priests are living in poverty. Maybe Archbishop Myers is planning on taking some of them into this big place he is building.  I digress. Could we ease the suffering of retired priests living in poverty by giving them one of those empty rooms in a big rectory with lots of empty rooms?