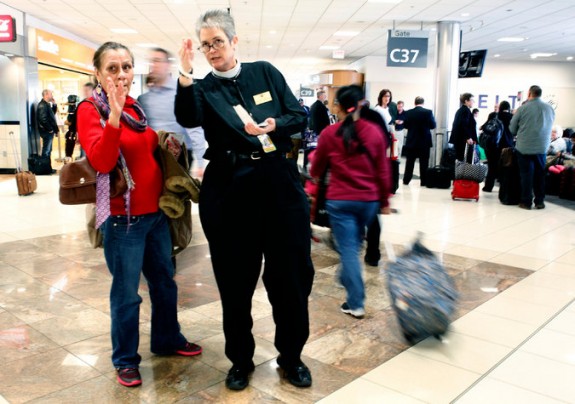 Photo: Tami Chappell for The New York Times
From The New York Times:  
The young man, weighed down by luggage and despair, was a first-time flier on his way to a funeral in Detroit. His father's.

He was unaware that most airlines no longer haul checked bags free, and he was short on money. So workers at Hartsfield-Jackson Atlanta International Airport did what they often do when passengers encounter a problem: They sent him to the chapel.

The Interfaith Airport Chaplaincy, in the atrium next to a steak-and-brew restaurant, offers more than a two-item menu of spiritual guidance and comfort. It is the concierge for the disconnected. Maj. Larry Cowper of the Salvation Army and the Rev. Donna Mote of the Episcopal Church lent the traveler a sympathetic ear. Then Ms. Mote accompanied him back to the check-in, pulled out the chaplaincy credit card and covered the fee.

"We are kind of an extreme customer service," said the Rev. Chester R. Cook, senior chaplain at Hartsfield-Jackson, whose three full-time pastors are augmented by some 50 volunteers representing 10 faiths. The airport, the world's busiest, serves over 225,000 passengers a day.

As flight delays worsen, security lines bulge and nerves fray, chaplains at airports across the country cruise up and down concourses, casting a trained eye on the swirl of humanity in search of anybody who appears in need.

The range of tasks is becoming as limitless as the blue sky, including playing mediator at a ticket counter, buying a hot meal for the hungry, arranging hotel rooms for the stranded and bus rides for the broke. They still offer religious services, and even conduct the occasional wedding, but God's work in the airport concourse is increasingly about solving pressing earthly problems.

"The very essence of what we do has shifted," said the Rev. Chris Piasta, a Catholic priest who oversees Our Lady of the Skies Chapel at Kennedy Airport and spends time at La Guardia Airport, which does not have a chapel. Being an airport chaplain, he said, is no longer about sitting idly in the chapel waiting for the afflicted to arrive.