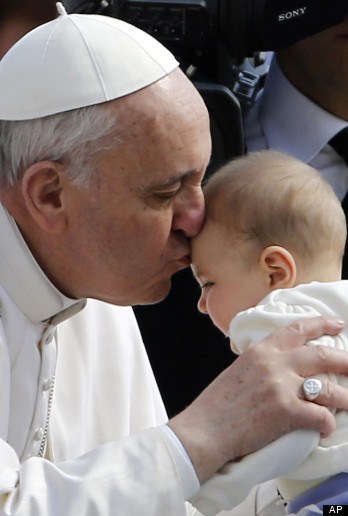 David Gibson has the scoop: 
Fortune magazine today released its list of the World's 50 Greatest Leaders and guess who came in at Numero Uno? Yep:

Francis recently asked the world to stop the rock-star treatment. He knows that while revolutionary, his actions so far have mostly reflected a new tone and intentions. His hardest work lies ahead. And yet signs of a "Francis effect" abound: In a poll in March, one in four Catholics said they'd increased their charitable giving to the poor this year. Of those, 77% said it was due in part to the Pope.

Well, they may be overstating the statistical "Francis Effect," as other polls don't show many behavioral changes. But no doubt there's been a major shift.

And Francis' leadership faces many tests, but he has really begun to shake up the Vatican bureaucracy AND the culture of the church.

Can he succeed? Or will "Pope and Change" wind up the same way "Hope and Change" has?

Come to mention it, President Obama isn't even on the list.
The magazine notes:
When a reformer sweeps through an institution more forcefully in just a year than any other in memory — and when that institution is some 2,000 years old and the largest organization on earth — he draws attention, admiration, and wonder. That's why Pope Francis leads our inaugural list of the World's Greatest Leaders, and why he was proposed more often by our nominators than any other candidate. Reforming the scandal-plagued Vatican bank, finally beginning to address the child sexual abuse scandal, shaking up the Vatican's self-absorbed bureaucracy, setting a striking new tone through his personal example of modesty and inclusiveness — this is what a great leader does.
Check out who else made the list.