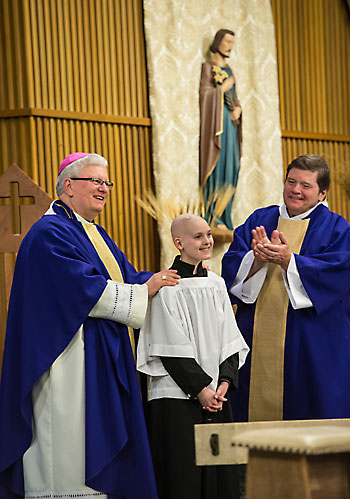 Photo: Sam Lucero | The Compass
From The Compass in Green Bay, Wisconsin.
Last November, Joey Pickett, a fourth grader at Crivitz Elementary School, donned his altar server vestments for the first time at St. Mary Church.

Fr. Walter Stumpf, pastor of St. Mary Parish, recalls Joey's first Mass as one where the sacrament of anointing of the sick was offered.

Within days of that Mass, where he witnessed people who were ill or facing medical challenges receive the sacrament of anointing, Joey was diagnosed with a brain tumor. "I thought that was meaningful, that he was there to help our sick people, not even realizing how sick he was," said Fr. Stumpf.

Since the first surgery on Nov. 27 to relieve pressure on his brain from the tumor, Joey, 10, has faced additional surgeries and 30 radiation treatments to his brain and spine. The past four months have been challenging for Joey's parents, Sherie and Jim Pickett, but faith, prayers and community support have helped them. The most recent gesture of support took place at the Rural Life Mass held March 27.

The committee organizing the Rural Life Mass in Crivitz wanted Joey, who is on the road to recovery, to serve at Mass. Still showing the effects of radiation treatment, Joey and his family accepted the invitation. "He was nervous," said Sherie Pickett, explaining that Joey worried he would forget his altar-serving duties and wasn't sure how to address Bishop David Ricken, who presided at the liturgy. While in the church sacristy preparing for Mass, Fr. Stumpf introduced Joey to Bishop Ricken.

"After I introduced him, (Bishop Ricken) said, 'I would like to have a special blessing for Joey at Mass. Would it be alright?'" said Fr. Stumpf.