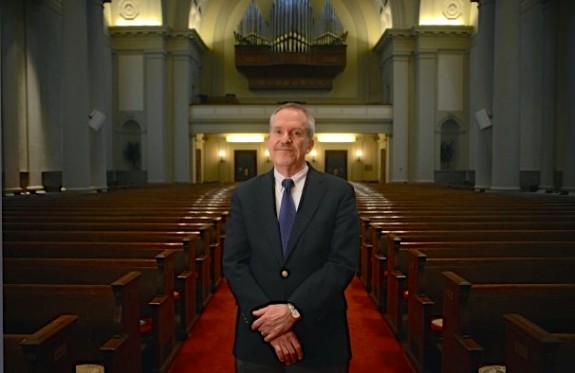 Photo: by Astrid Riecken for the Washington Post

 Having worked in Catholic church music ministry for nearly 40 years — basically his entire adult life — Mike McMahon thought he knew the landscape and his place in it. As a gay person, all was fine as long as he was "discreet."

And that worked for him even in the conservative Roman Catholic Diocese of Arlington, Va., where he was employed for about 30 of those years as music director at several parishes. In that time, McMahon, who has three graduate degrees in theology, also served as president of the National Association of Pastoral Musicians, the national body for liturgical music leaders in the Catholic Church.

Then came same-sex marriage, the topic that has roiled traditional religion and rocked the "don't ask, don't tell" status quo so common in houses of worship and religious schools.

Last summer, McMahon, 62, was fired as music director at St. Agnes Catholic Church in Arlington after news of his marriage reached the pastor, the Rev. Lee Roos…
Read on to learn why.
And for a fuller explanation of Catholic teaching on gay marriage, check out the 2003 document, "Considerations Regarding Proposals to Give Legal Recognition to Unions Between Homosexual Persons."  It concludes:
The Church teaches that respect for homosexual persons cannot lead in any way to approval of homosexual behaviour or to legal recognition of homosexual unions. The common good requires that laws recognize, promote and protect marriage as the basis of the family, the primary unit of society. Legal recognition of homosexual unions or placing them on the same level as marriage would mean not only the approval of deviant behaviour, with the consequence of making it a model in present-day society, but would also obscure basic values which belong to the common inheritance of humanity. The Church cannot fail to defend these values, for the good of men and women and for the good of society itself.