From the Harvard Crimson:
The Harvard Extension School Cultural Studies Club has dropped its sponsorship of a re-enactment of a Satanic "black mass" ritual, which was scheduled to occur Monday evening at Cambridge Queen's Head Pub. A spokesperson for the Satanic Temple, which was facilitating the black mass, said that the organization no longer plans to hold a black mass this evening.

The Harvard Extension School Cultural Studies Club originally said that it planned to relocate its reenactment of a Satanic black mass ritual, scheduled for Monday night, to an off-campus site, citing in an email that "misinterpretations about the nature of the event were harming perceptions about Harvard and adversely impacting the student community."

The club wrote in its email around 5 p.m. that they planned for the event to be held at The Middle East nightclub in Central Square at 9 p.m. But Clay S. Fernald, the general manager of The Middle East, said Monday evening that the nightclub will not host the event, and that negotiations with the Harvard Extension Cultural Studies Club had fallen through.

Fernald declined to comment on why negotiations had ended.

Around 7 p.m., the Cultural Studies Club sent an email saying that they had been unable to find another location and would no longer sponsor the black mass.
The Boston Herald, meantime, confirms the event was completely scrapped.  
Below, an image from Twitter, showing the packed St. Paul's Church, where the Holy Hour and Benediction protesting the event went on as planned.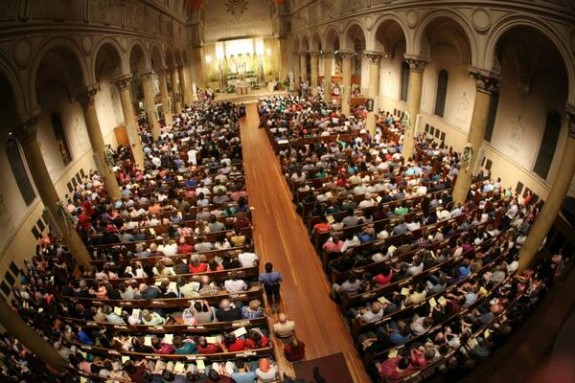 Meanwhile, a short clip of Boston's Eucharistic procession tonight has also popped up online: