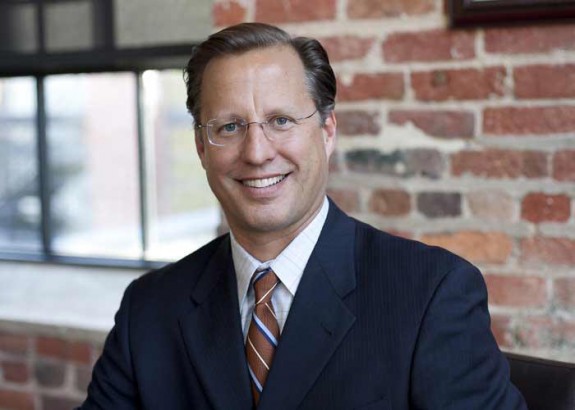 The professor who upset Eric Cantor in Tuesday night's election has an interesting religious background:
The Republican primary race in Virginia's 7th district was a David and Goliath story from the beginning. Perhaps that's why David Brat—the Tea Party professor who stunned the country and took down House Majority Leader Eric Cantor on Tuesday—waved a piece of paper with a Bible verse in the air when he won: "Jesus replied, 'What is impossible with man is possible with God!'" he announced to the crowd's applause.

But there was another reason as well. Brat's spiritual life has long been as central to his identity, even though it has also been difficult to pigeonhole. He currently attends a Catholic church, but he also identifies as a Calvinist, and he lists four churches as affiliations on his resume: St. Michael's Catholic, Christ Church Episcopal, Third Presbyterian, and Shady Grove Methodist. He earned his bachelors from Hope College, a Christian liberal arts college in Holland, Mich., which is historically affiliated with the Reformed Church in America, a Protestant denomination that sprouted during the 17thcentury. He got a Masters of Divinity from Princeton Theological Seminary, a Presbyterian school, but while there wrote a thesis on logical positivism and its impact on economic science—not a typical choice for someone earning a ministerial degree. He then switched his focus and earned a Ph.D. in economics from American University.

Through all of that, one aspect of his faith has been constant: Brat takes the Protestant work ethic seriously. Like many of his Tea Party colleagues, Brat is an Ayn Rand enthusiast, and coauthored a paper assessing the moral foundations of her writings in 2010. Like many Protestants in the classic Calvinist tradition, he believes Christ is the transformer of culture, and that capitalism is the key to this world transformation. He outlined this view of politics and religion in a 2011 paper titled "God and Advanced Mammon—Can Theological Types Handle Usury and Capitalism?" published out of Union Presbyterian Seminary's Interpretation: A Journal of Bible and Theology.

His core argument is that capitalism and Christianity should merge. He believes their union is so important that making disciples of capitalism is Brat's own version of Jesus' Great Commission. "The main point is that we need to synthesize Christianity and capitalism," he concludes in "God and Advanced Mammon." "Augustine synthesized Plato and Christianity. Thomas Aquinas synthesized Aristotle and Christianity. Calvin synthesized all the rest, but capitalism was still coming. There is a book in here somewhere for the next Calvin. Go. God Bless."

This means that for Brat, the Biblical message of loving your neighbor is about making people self-sufficient.
UPDATE: Brat's Wikipedia entry identifies him as Roman Catholic, but his campaign website says: "A man of deep faith, Dave attends St. Mary's Catholic Church with his wife Laura and their two children: Jonathan, 15 and Sophia, 11." I remember a similar ambiguity a few years back about Marco Rubio.
I suspect Brat is not a baptized Catholic (though, evidently, his wife is).