A little group of us, representing part of the Patheos Catholic Channel, gathered to lead a panel discussion this afternoon at the Catholic Media Conference in Charlotte.
The topic: "Blogging About Faith Without Losing Your Soul."  After the talk, we posed for a class picture.
It's Sister Rose, Your Humble Blogger, Fr. Eric Sundrup, Frank Weathers, Fr. Dwight Longenecker, Katrina Fernandez and Kathryn Jean Lopez.
God love you all. You were great. Thank you!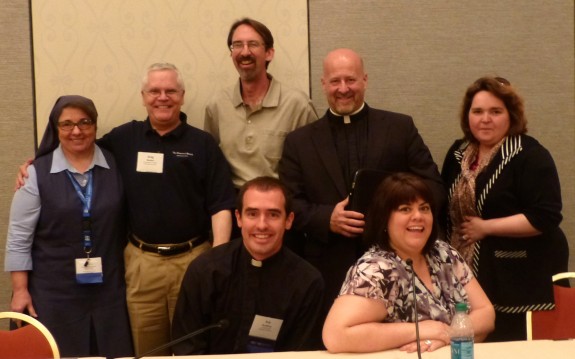 UPDATE: I'm pleased to report that I'm not leaving the Catholic Media Conference empty-handed. My magazine, ONE, was honored with 16 awards, including First Place for General Excellence.