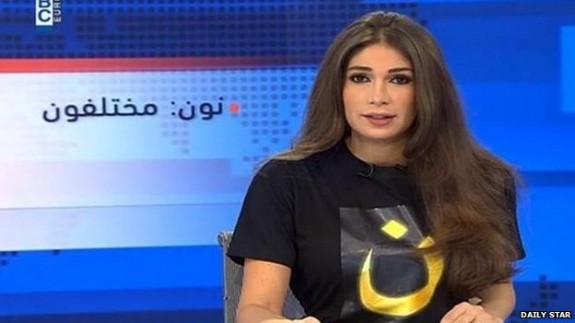 A Lebanese TV channel is using the Arabic letter N in its logo, in what appears to be a show of solidarity with Christians in Iraq.

Dima Sadeq, one of the main anchors on the channel LBCI, has appeared on screen wearing a T-shirt with the letter N – pronounced Noon in Arabic. "From Mosul to Beirut, we are all Noon," Sadeq said just before a recent edition of LBCI's nightly news bulletin, The Daily Star newspaper reports. N appears to stand for the old Arabic word Nassarah – a term used in the Koran to describe Christians.

Since the Iraqi city of Mosul fell into the hands of Islamic State militants in June, houses where Christians live have been marked out with the letter N. Many Christians have fled the city after they were told to pay a tax, convert to Islam, or face death. "We are all targets to be pointed at with a finger or a sword because we're different, whether in terms of sex, religion, or colour of our skin," Sadeq said, adding: "We are all targets of murder in this insane era."
Additional details here.