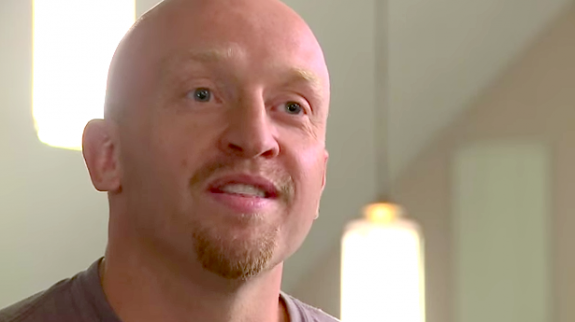 As someone says in this video, "You're the first really badass preacher I've met."
From The New York Times:
"Can you love your neighbor as yourself and at the same time knee him in the face as hard as you can?"

So wondered Pastor Paul Burress, as we interviewed him about his "fight ministry," which he started to bring his take on Christianity to more people in Rochester, N.Y. For Mr. Burress and his ministry, the answer is yes — members of his congregation fight one another in church on a regular basis.

As this Op-Doc video shows, Mr. Burress is one of a growing number of pastors who incorporate mixed martial arts (M.M.A.), a violent sport also known as cage fighting that embraces kickboxing and wrestling, into their parishes. Pastors like him feel that the church's traditional evangelizing is not resonating with young men anymore, and they are resolved to change that. They justify their unorthodox approach by arguing that many of the Bible's core tenets involve fighting: for freedom, for one's beliefs, and for Jesus, too.
I can think of one or two Catholic preachers who could use this to good effect.
See what you think.