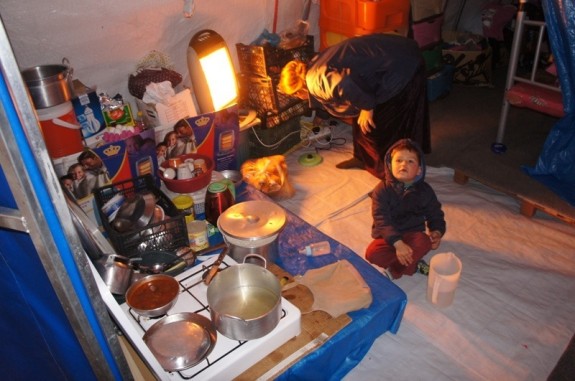 A new report from CNEWA's blog One-to-One:
After 100 days away from their homes, churches, and lands, more than 20,000 Christian families find themselves in dire situations where they have to fight everyday to cover their basic needs.

…It is estimated that today more than 1.8 million people are displaced in the country, mostly in Kurdistan and Anbar provinces, where about 390,000 are estimated to be in need of shelter and currently living in schools, under bridges or out in the open, in very bad conditions. Over 860,000 internally displaced persons have arrived from Anbar, Mosul and Sinjar in the last several months as the situation has deteriorated in all those regions. In August alone, 650,000 people arrived in Kurdistan seeking shelter, security and safety. Many of them have been staying with friends and relatives. About 400,000 displaced now live in Anbar Province, which is not controlled by Iraqi Government forces.

Presently, there are 120,000 Christian refugees in the Iraqi Kurdish capital of Erbil and other parts of Kurdistan.

As the needs continue to rise, the humanitarian conditions of the displaced are deteriorating. Children, being fragile, are the most affected in this crisis.

The great majority of families have been removed from tents and outside camps to be sheltered in either rented apartments or prefabricated rooms. Others have been relocated to large unfinished commercial buildings. Yet all those dwellings have been rented by the Chaldean Bishop Bashar Warda, or Syriac Catholic Bishop Boutros Moushe, on a temporary basis not to exceed three months.

After that, ensuring proper housing for families will depend on continued funding from international organizations.

It is also important to mention that the habitats are not of the same standards.

In some centers we visited, the dwellings were proper and decent to live in, but many had more than two or three families sharing the same space, with an average of at least 20 persons living in each apartment. The furniture is often limited to some mattresses and kitchen utensils distributed by NGO's. In other large commercial facilities and prefab rooms, the situation is much worse and unsafe; most of the partitioning is made of flammable PVC panels with poor ventilation and lack of proper sanitation. Many families cook inside these cells, too, which is dangerous. In Ain Kawa Mall — where 380 families are housed in the three-story building partitioned and prepared by UNHCR and other UN organizations — the families wait in lines to get hot water. Some stated that they have been without a shower for more than 10 days and the frequent electricity outages make the situation harder. Making matters worse, the owner of the mall claims that the lease will run out at the end of November, and the 2,000 persons living in those bad conditions could be out on the streets again.
And then there's the overwhelming need for food items:
CNEWA has tried to fill the gaps and cover the unmet needs as identified by its local partners from the church — providing milk and diapers for new born infants and children up to 8 years old as such:

• 6 packs of milk per month for children between 0 and 3 years old
• 2 packs of milk per month for children between 4 and 8 years old
• 3 packs of diapers per month for children between 0 and 3 years old.

This need has been identified and prioritized by the Dominican Sisters and it will reach in the first phase around 977 children in all the 13 displacement camps.

The second phase of the project will reach the remaining 945 children of the displaced camps and later the 1000 children of the displaced families in rented houses all over Erbil. Funding has already been secured from CNEWA's donors in North America.

It is worth mentioning that there is still an overwhelming need for milk for infants and children, because so far most international relief agencies are not providing any milk within their food packages designated for Iraqi displaced.
That's just the beginning. Read more.  And visit this link to learn how you can help.