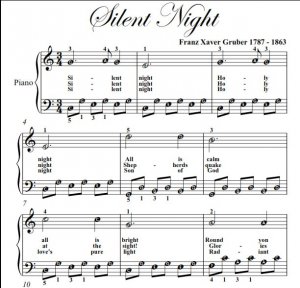 Writer Sarah Thebarge unloads over at Huffington Post: 
I was on staff at a church for a year, and I understand the pressure people must've been under in past Christmas seasons to bang out a new song their people could sing to celebrate baby Jesus. But it seems that in their haste, they have created some shoddy work, and they've altered the theology of the Christmas story — sometimes because it's cute, and sometimes merely for the fact that it rhymes.

And we tolerate it. No, not just tolerate. We actually enjoy and embrace it.

This week I found myself driving around, listening to Christmas music, not nodding and smiling like I usually do, but yelling at the radio.

Sorry, Silent Night, but nothing was calm about the night Jesus was born. The town had swelled to capacity because everyone was there to register for a census, and the inns and restaurants and streets were crowded. Bethlehem was a complete madhouse.

Plus, I highly doubt that there were beams of light radiating from baby Jesus' face. He was an actual child, not a fluorescent doll.

Sorry, Do You Hear What I Hear, but the wind was not talking to a lamb, nor was a lamb talking to a shepherd, nor was a shepherd telling a mighty king about the star with a tail as big as a kite. Shepherds weren't bringing gold to baby Jesus either. That was the wisemen, you idiot.

And Away in Manger. Seriously? No crying he made? If a baby's born and it doesn't cry, it gets a very low Apgar score and everyone tries to resuscitate it.

God Rest Ye Merry Gentlemen? What the what? If they're merry, why the heck do they need resting? (And what exactly do you mean by 'resting', anyway?)

Ding Dong Merrily on High…shoot. Don't even get me started.
But wait. There's more.