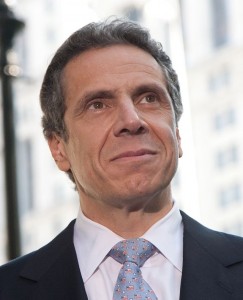 Andrew Cuomo by Pat Arnow via Wikipedia
Former Gov. Mario Cuomo was laid to rest Tuesday at a packed funeral highlighted by a stirring public farewell from his son, Gov. Andrew Cuomo.

In an emotional and personal 39-minute eulogy, Cuomo, his voice sometimes quaking, branded his father "the keynote speaker for our better angels" and evoked his memory in calling for healing in New York City between the police and community.

Gov. Cuomo painted a picture of a tough-minded man who fought for the underdog but never was seduced by the trappings of power. He said his father preferred weekend family meals, watching a ballgame, reading a book or talking to travel or fancy cars.

"At his core, at his best, he was a philosopher," Cuomo told mourners at St. Ignatius Loyola Church on the Upper East Side. "And he was a poet. And he was an advocate. And he was a crusader."
Okay. Let's just review the basics. A brief refresher on eulogies at Catholic funerals, from the Order of Christian Funerals:
A brief homily based on the readings is always given after the gospel reading at the funeral liturgy and may also be given after the readings at the vigil service; but there is never to be a eulogy.
And in the rubrics:
Following the prayer after communion, the priest goest to a place near the coffin. The assisting ministers carry the censer and holy water, if these are to be used. A member or a friend of the family may speak in remembrance of the deceased before the final commendation begins..
Taking all that into consideration, it seems clear some sort of brief remembrance might be appropriate at the end of the service but not in the place of the homily. It is often left to the discretion of the pastor to determine how long it will be; sometimes, the pastor or celebrant will allow multiple reflections to be offered. (The administrator at my parish has a simple rule: "One body, one speech. End of discussion.")
In this case, I don't know when or how Andrew Cuomo spoke; I didn't see it. A reader who watched the whole Mass on TV and told me "I was spellbound." Well, good. But 40 minutes? Really?
Sorry. No matter who you are, or what you're saying, or whom you're commending into the care of God, that's just wildly self-indulgent and inappropriate. To my way of thinking, two great examples of this kind of rhetoric really set the gold standard for a Catholic funeral remembrance: Ted Kennedy's remarks at the funeral of his brother Robert and Bishop Hannan's eulogy for John F. Kennedy. For length, tone, content and delivery, both are unrivaled.
UPDATE: The Wall Street Journal has published a transcript of Cuomo's remarks.