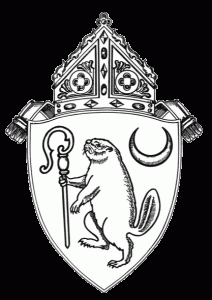 Those words came from a homily delivered at an unusual ordination this weekend in Albany.
From The Troy Record:
Frederick Richard Lesser, a widowed father of three grown children, was ordained a transitional deacon Saturday at the Cathedral of the Immaculate Conception on Madison Avenue and Eagle Street, a step toward priesthood.

"From the time I was small I have always wondered if I had this vocation," said Lesser, 60.

Lesser is a retired equine veterinarian from South Bethlehem, and is expected to be ordained as a priest in June.

"It's been a slow unfolding for many years. The doors kept opening in this direction," Lesser said.

When asked about his past as a husband and a father, he said, "I still have that life with me. I've got three kids, my wife passed away nine years ago, but I was blessed by God to have two wonderful vocations."

Lesser was joined at the ceremony by Bishop Edward Scharfenberger, Bishop Emeritus Howard Hubbard, and about a dozen other priests.

As an active parishioner at St. Patrick's in Ravena, Lesser began to see a new path after his wife's death.

He said his call to the priesthood was fostered by a number of good priests and religious women.
And there is this, from FOB (and Queens native) Bishop Scharfenberger:
Bishop Scharfenberger recalled his own ordination in September 1972.

"I knew that when I was becoming a deacon, I knew I was taking a significant step," said Scharfenberger. "Even though it was not the priesthood, I knew that I was now making that step to really follow the Lord in this way for the rest of my life." In his homily, Scharfenberger said the step of becoming a deacon was not a step up, but down, "to serve on his knees looking up, not serve on his thrown looking down."