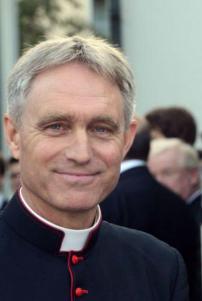 From blogger Mark de Vries (h/t to Diane Korzeniewski)
An interesting interview in Christ & Welt, a weekly supplement to Die Zeit in Germany, with Archbishop Georg Gänswein yesterday. It sheds some interesting lights on recent developments in the Vatican, such as Pope Francis' Christmas talk to the Curia, the Pope's relationship with the media, the Synod and also retired Pope Benedict XVI and some personal touches. Worth a read:

Q: At Christmas Pope Francis caused some furore with his talk about fifteen diseases of the Roman Curia. You were seated directly next to the Pope. At what point did you stop counting?

Georg Gänswein: As Prefect of the Papal Household I sat, as ever on such occasions, at the Pope's right. And as ever I had a copy of the talk in my briefcase, but I hadn't had the time to read it beforehand. When the list of diseases began I thought to myself, "Now it's going to be interesting", and it became ever more interesting. I counted until the ninth disease…

What went through your head?

Normally the Pope uses the Christmas reception for the Curia to look back on the past year and look ahead to the coming one. It was different this time. Pope Francis preferred to hold up a mirror of conscience to the cardinals and bishops, among them a few who were retired…

Did you feel like it appealed to you?

Of course I asked myself, "Who does this concern? What disease affects you? What needs to be corrected?" At one point I had to think of my many moving boxes.

Do you mean the anecdote about the moving of a Jesuit with countless possessions? Francis had said that moving was a sign of the "disease of hoarding".

Exactly. Since leaving the Apostolic Palace after the retirement of Pope Benedict in February of 2013 more than a few of my things are still in boxes in a storeroom. But I can't see a sign of disease in that.

What did Pope Francis intend with this act of flagellation? It could be demotivating.

That is a question that many of my colleagues also asked. Pope Francis has been in office for almost two years now and knows the Curia pretty well. He obviously thought it necessary to speak clearly and to cause an examination of conscience.

What were the reactions?

It was a treat for the media, of course. During the talk I could already see the headlines: Pope castigates Curia prelates; Pope reads his coworkers the law! Sadly, outwardly it gave the impression that there was a rift between the Pope and the Curia. That impression is deceiving, and does not coincide with reality. But the address drowned that out.

Was the talk criticised internally?

The reactions ranged from surprise to shock and incomprehension.

What are your thoughts about Francis, two years after his election?

Pope Francis is a man who has made it clear from the outset that he deals differently with things that he sees differently. That is true for his choice of living, the car he drives, the entire process of audiences in general and especially for protocol. One could think that he was getting used to things in the beginning and wanted a significant degree of flexibility. By now it has become standard. The Holy Father is a man of extraordinary creativity and Latin American zest.
Photo: from In Caelo et in Terra