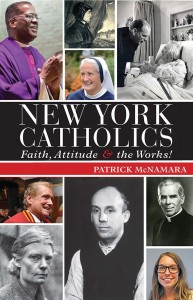 NCR has interviewed author (and Patheos blogger) Pat McNamara about his new book "New York Catholics," which profiles nearly 80 New Yorkers who have filled the pews of my state—including Thomas Merton, Fulton Sheen, Jimmy Fallon, Dorothy Day, Martin Scorcese… and (incredibly) me:
A number of contemporary voices noted that Fr. Thomas Merton was a big influence on their lives. Your book showed on more than one occasion the continuity or connectedness between the historical figures and the contemporary individuals in the continuing building up of the New York church. As a Catholic and as an historian, that must have been fascinating to discover.

It certainly was. [Jesuit Fr.] James Martin has spoken many times about the influence of Thomas Merton on his life, and [Archbishop] Fulton Sheen has influenced those involved in the new social media, such as Deacon Greg Kandra. Dorothy Day has been a powerful example and inspiration for those working with the poor today. As a historian, it was fun discovering these points of connection between past and present. The point of commonality between the past and present figures is a generous response to God's call.

In several profiles, the individual's faith really created sharp turns in the road of their lives — for example, Mother Agnes Donovan, who helped start and now leads the Sisters for Life religious order, or Deacon Greg Kandra, whose decision to become a deacon happened in fairly short order. What did you discover about how one's faith can become a real game change in people's lives and in the lives of the people they serve?

In a sense, what happens is something of a conversion experience, for the cradle Catholic as well as the adult convert. Both Mother Agnes and Deacon Greg fall in the former category, but their experience was no less profound than that of Dorothy Day or Thomas Merton. Edward McGlynn was a parish priest in 1860s Manhattan when he made a decision to devote his life to the urban poor. Mary Walsh was an unemployed immigrant when she turned her life over to God and the poor. In all these cases, their faith life made a real difference in the lives of those they aimed to reach through their writings and deeds.
Check out the rest here.