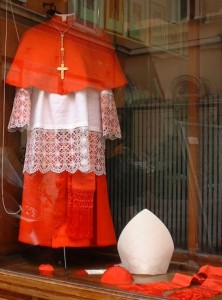 And: No one from the United States is on the list.
The Wall Street Journal notes: 
The 15 men are all under the age of 80, which makes them eligible to vote in a conclave to elect a future pope.

The majority of the new batch of cardinals is from the developing world, reflecting the Argentine-born pontiff's efforts to rebalance the College of Cardinals toward countries where Catholicism is growing.
John Allen writes in Crux: 
With his picks for new cardinals announced on Sunday, Pope Francis continued his campaign to reach out to the peripheries. The pontiff bypassed traditional centers of power and awarded red hats to such typically overlooked locales as Panama, Thailand, Cape Verde, New Zealand, and the Pacific island of Tonga.

For the second time, there were no new cardinals from the United States on the list announced by Francis. There were also no Americans in the first crop of cardinals named by Francis in February 2014.

While geography seemed the determining factor in these picks for Pope Francis, who at times struggled even pronouncing the names of his new cardinals, it's noteworthy that the list includes a couple of high-profile moderates but no one with a clear reputation as a doctrinal or political conservative.

Archbishop John Atcherley Dew from New Zealand, for instance, argued for allowing divorced and civilly remarried Catholics to receive Communion at a 2005 Vatican synod of bishops. Archbishop Ricardo Blázquez Pérez is president of the Spanish bishops' conference and generally seen as a moderate opposed to the harder line of former Madrid Cardinal Antonio María Rouco Varela.
The complete list from Vatican Radio: 
At the Angelus on Sunday, Pope Francis announced the names of fifteen Archbishops and Bishops whom he will raise to the dignity of the Cardinalate on February 14, 2015. In addition, the Holy Father announced that five retired Archbishops and Bishops "distinguished for their pastoral charity in the service of the Holy See and of the Church" would also be made Cardinals.

Below, please find the complete text of the Pope's announcement, with the names of all those set to be elevated to the Cardinalate:

"As was already announced, on February 14 next I will have the joy of holding a Concistory, during which I will name 15 new Cardinals who, coming from 13 countries from every continent, manifest the indissoluble links between the Church of Rome and the particular Churches present in the world.

"On Sunday February 15 I will preside at a solemn concelebration with the new Cardinals, while on February 12 and 13 I will hold a Consistory with all the Cardinals to reflect on the orientations and proposals for the reform of the Roman Curia.

"The new Cardinals are:

Archbishop Dominique Mamberti, Prefect of the Supreme Tribunal of the Apostolic Signatura

Archbishiop Manuel José Macario do Nascimento Clemente, Patriarch of Lisbon (Portugal)

Archbishop Berhaneyesus Demerew Souraphiel, C.M., of Addis Abeba (Ethiopia)

Archbishop John Atcherley Dew of Wellington (New Zealand)

Archbishop Edoardo Menichelli of Ancona-Osimo (Italy)

Archbishop Pierre Nguyên Văn Nhon of Hà Nôi (Viêt Nam)

Archbishop Alberto Suàrez Inda of Morelia (Mexico)

Archbishop Charles Maung Bo, S.D.B., of Yangon (Myanmar)

Archbishop Francis Xavier Kriengsak Kovithavanij of Bangkok (Thailand)

Archbishop Francesco Montenegro of Agrigento (Italy)

Archbishop Daniel Fernando Sturla Berhouet, S.D.B., of Montevideo (Uruguay)

Archbishop Ricardo Blázquez Pérez of Vallodolid (Spain)

Bishop José Luis Lacunza Maestrojuán, O.A.R., of David (Panamá)

Bishop Arlindo Gomes Furtado, of Santiago de Cabo Verde (Archipelago of Cape Verde)

Bishop Soane Patita Paini Mafi of Tonga (Island of Tonga)

"Additionally, I will join to the Members of the College of Cardinals five Archbishops and Bishops Emeriti who are distinguished for their pastoral charity in the service of the Holy See and of the Church. They represent so many Bishops who, with the same pastoral solicitude, have given witness of love for Christ and for the people of God in particular Churches, in the Rome Curia, and in the Diplomatic Service of the Holy See.

"They are:

José de Jesús Pimiento Rodriguez, Archbishop Emeritus of Manizales

Archbishop Luigi De Magistris, Major Pro-Penitentiary Emeritus

Archbishop Karl-Joseph Rauber, Apostolic Nuncio

Luis Héctor Villaba, Archbishop Emeritus of Tucumán

Júlio Duarte Langa, Bishop Emeritus of Xai-Xai

"Let us pray for the new Cardinals, that, renewed in their love for Christ, they might be witnesses of His Gospel in the City of Rome and in the world, and with their pastoral experience they might support me more intensely in my apostolic service."