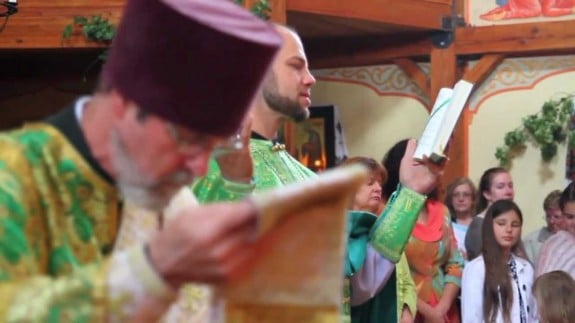 From the Pittsburgh Post-Gazette, a story that will be familiar to a lot of deacons:
On a January weeknight, Halyna Charron was finishing preparations of a dinner of spinach pie, pork and tabouli salad.

Her husband, the Rev. Jason Charron, and all but the youngest of their six daughters, who range from 2 to 13 years old, pitched in at various times, slicing vegetables and setting the table in their Carnegie home. In between, one daughter played piano in the living room, another a brief video game in the TV room.

When they gathered at the table, they stood for a dinner blessing and faced a display of icons as the parents led the children in chanting prayers in English and Ukrainian.

During the meal, the parents asked the daughters what they learned in school, and the girls talked of homework and upcoming tests.

After dinner, Father Charron buttoned up his black cassock and headed out to do a house blessing in Upper St. Clair for a family of parishioners — a January tradition for Ukrainian Catholics. He and two daughters, brought along for the ride, gathered with the host family in their dining room for a prayer. The whole group then processed up and down stairs as Father Charron chanted blessings and sprinkled each room with holy water.

It was another day in the life of balancing work, marriage and family. "I can't be a good pastor if I'm a lousy dad or lousy husband," said Father Charron, 38.

That's not the typical challenge for a Catholic priest.

But throughout North America, the ranks of married priests have slowly been growing in Eastern Catholic parishes such as Holy Trinity Ukrainian Catholic Church in Carnegie, where Father Charron became pastor last year.

Eastern Catholics are now preparing for more married priests. A historic decree last year by Pope Francis lifted a generations-old ban on married priests serving Eastern Catholic rites in the Americas and Australia.

Eastern Catholics, estimated around 600,000 in the United States, are barely 1 percent of the nation's Catholic population. But they are some of its most diverse members, with distinct heritages in Eastern Europe, the Middle East and beyond. They are loyal to papal authority and Catholic dogma while practicing ancient liturgies and traditions similar to those of Orthodox and other Eastern churches.

Those traditions have included married priests — at least in the Old World.
Read more. And check out the video below.
Top image via YouTube