A priest friend posted the following image on Facebook this morning, describing it as "artsy church decor for Lent."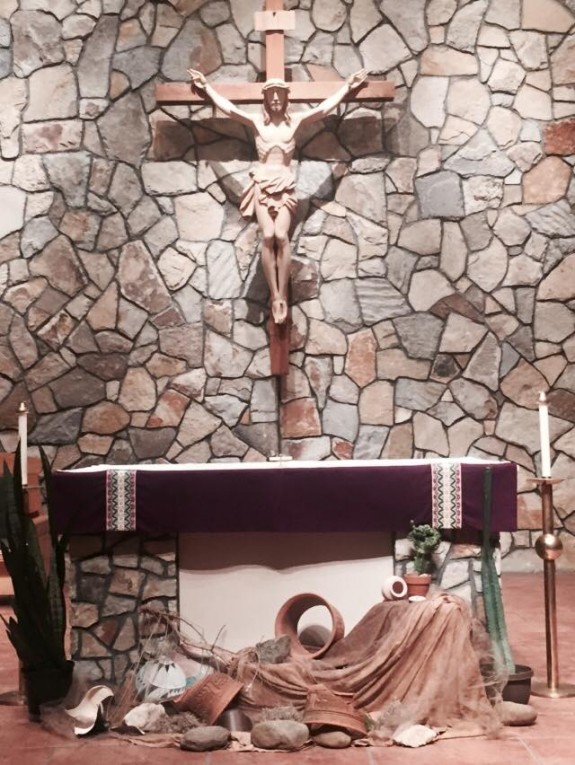 "This is a bit much," I commented. "Lent is about stripping away, not adding on. It's distracting, too. You don't know where to look."
I was curious about what guidelines, if any, the General Instruction of the Roman Missal (GIRM) provides for decorating the altar during Lent.
305. Moderation should be observed in the decoration of the altar.

During Advent the floral decoration of the altar should be marked by a moderation suited to the character of this time of year, without expressing in anticipation the full joy of the Nativity of the Lord. During Lent it is forbidden for the altar to be decorated with flowers. Exceptions, however, are Laetare Sunday (Fourth Sunday of Lent), Solemnities, and Feasts.

Floral decoration should always show moderation and be arranged around the altar rather than on the altar table.
I was wondering how other churches decorated for the season and found some examples while Googling: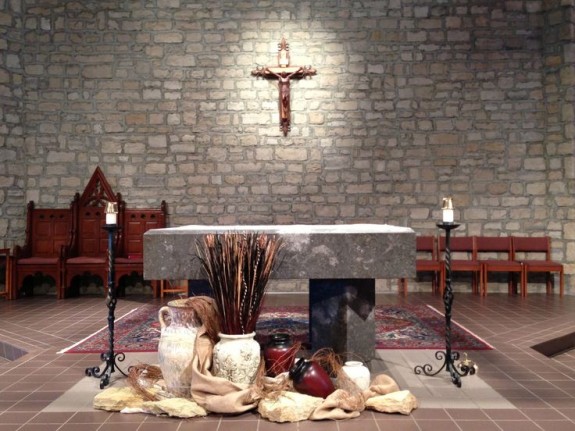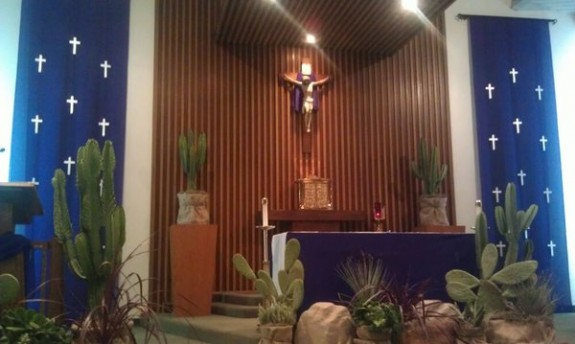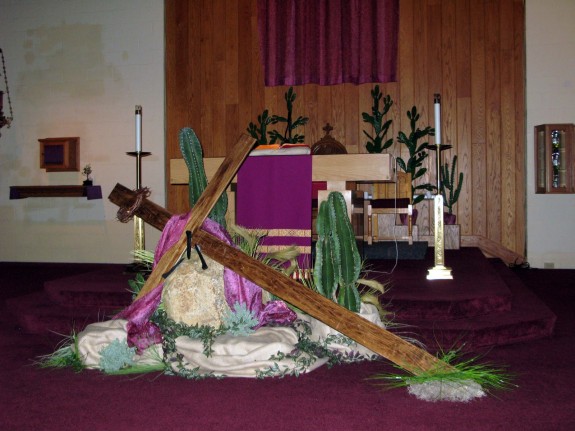 Lots of places go in for rocks, cacti, twigs and assorted "desert-y" additions to the sanctuary, sometimes almost overwhelming the altar.
Different strokes, I guess.
But I still think this penitential season should inspire a feeling of absence, not abundance—of emptiness, not scattered bric-a-brac. Too many parishes are tempted to replace flowers with other stuff, almost as if the liturgy committee feels that a bare sanctuary would be intolerable.
Folks: Lent is a time of giving up, not giving in; it's not about overdoing, but doing without.
It's a cliché , but it's true: these days, less is more.
It also seems to me that a yawning sense of desolation and bare-ness will also make us appreciate even more the explosion of light, color, fragrance and life we will encounter Easter morning, when blossoms, buds, lilies and azaleas burst forth to celebrate the Resurrection. The world will "exult."
Meantime, if you want a reminder of the kind of desert that Jesus called home for 40 days, take a look at the sandy landscape of Judea: