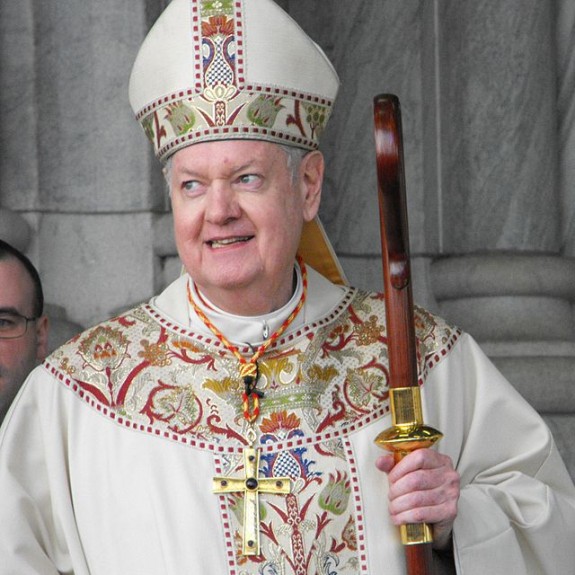 From The New York Times: 
Cardinal Edward M. Egan, a stern defender of Roman Catholic orthodoxy who presided over the Archdiocese of New York for nine years in an era of troubled finances, changing demographics and a priesthood of dwindling, aging ranks shaken by sexual-abuse scandals, died on Thursday in Manhattan. He was 82.

Joseph Zwilling, a spokesman for the archdiocese, said the cause was cardiac arrest. Cardinal Egan's successor, Cardinal Timothy M. Dolan, said in a statement that Cardinal Egan "had a peaceful death, passing away right after lunch" in his home at the Chapel of the Sacred Hearts of Jesus and Mary in Manhattan. He was taken to NYU Langone Medical Center and pronounced dead there, Cardinal Dolan said.

As archbishop of New York from 2000 to 2009 — spiritual head of a realm of 2.7 million parishioners, an archipelago of 368 parishes and a majestic seat at St. Patrick's Cathedral in Manhattan — Cardinal Egan was one of America's most visible Catholic leaders, invoking prayers for justice when terrorists struck on Sept. 11, 2001, and escorting Pope Benedict XVI on his historic visit to the city in April 2008.

A year later, the pope appointed Cardinal Dolan, who was the archbishop of Milwaukee at the time, to replace Cardinal Egan, concluding a tenure that had not been popular with many Catholics but that had come to grips with hard decisions on church finances and walked the line of church doctrine against winds of change.

A month before retiring, however, Cardinal Egan seemed to soften his stance on the centuries-old requirement of priestly celibacy by suggesting that the church would someday have to consider allowing priests to marry — a topic that has been much discussed since the election of Pope Francis.

"It's a perfectly legitimate discussion," Cardinal Egan said on an Albany radio station, adding: "I think it has to be looked at. And I am not so sure it wouldn't be a good idea to decide on the basis of geography and culture not to make an across-the-board determination."

Along with his elevation to the College of Cardinals in 2001, his appointment by Pope John Paul II to lead the Archdiocese of New York — to many the most prominent Catholic pulpit in the nation — crowned a career of more than five decades in his church. Nearly half of it was spent in Rome as a student, teacher, canon lawyer and ecclesiastical judge, and much of the rest in the senior ranks of the church in America.

Aside from a year as a young priest in a Chicago cathedral, he had always been on an executive track. He was secretary to Cardinal Albert G. Meyer of Chicago in the 1950s; a protégé of Cardinal John Patrick Cody of Chicago in the 1960s; after his extended sojourns in Rome, an auxiliary bishop in New York; and for 12 years the bishop of Bridgeport, Conn., where he was groomed for the New York post.
You can find a full bio here. 
Eternal rest grant unto him, O Lord, and let perpetual light shine upon him…
Photo from Wikipedia