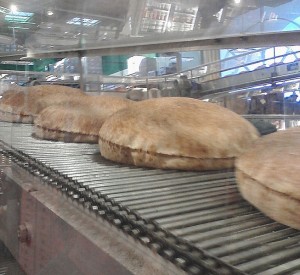 You got that right.
Pita bread?
From Redemptionis Sacramentum: 
1. The Matter of the Most Holy Eucharist

[48.] The bread used in the celebration of the Most Holy Eucharistic Sacrifice must be unleavened, purely of wheat, and recently made so that there is no danger of decomposition. It follows therefore that bread made from another substance, even if it is grain, or if it is mixed with another substance different from wheat to such an extent that it would not commonly be considered wheat bread, does not constitute valid matter for confecting the Sacrifice and the Eucharistic Sacrament. It is a grave abuse to introduce other substances, such as fruit or sugar or honey, into the bread for confecting the Eucharist. Hosts should obviously be made by those who are not only distinguished by their integrity, but also skilled in making them and furnished with suitable tools.
No communion on the tongue?
Again, from Redemptionis Sacramentum:
[92.] Although each of the faithful always has the right to receive Holy Communion on the tongue, at his choice, if any communicant should wish to receive the Sacrament in the hand, in areas where the Bishops' Conference with the recognitio of the Apostolic See has given permission, the sacred host is to be administered to him or her.
This priest has some explaining to do.
Photo via Wikipedia