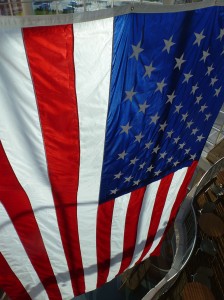 According to a new PRRI/RNS report, nearly six in ten Americans think America was a Christian nation in the past but is not one now (45 percent) or have never thought the U.S. was a Christian nation (14 percent). Only about one-third (35 percent) of Americans still believe America is and has always been a Christian nation—a notable drop from 2010, when 42 percent said the same.

There are substantial generational divisions on this issue. Young adults (age 18-29) are much less likely to say that U.S. is currently a Christian nation—only one-quarter (25 percent) say so—than seniors (45 percent). Nearly two in ten (21 percent) young adults say that the U.S. has never been a Christian nation, a view held by only 12 percent of seniors.
Read it all and check out graphs here. 
Photo via Wikipedia