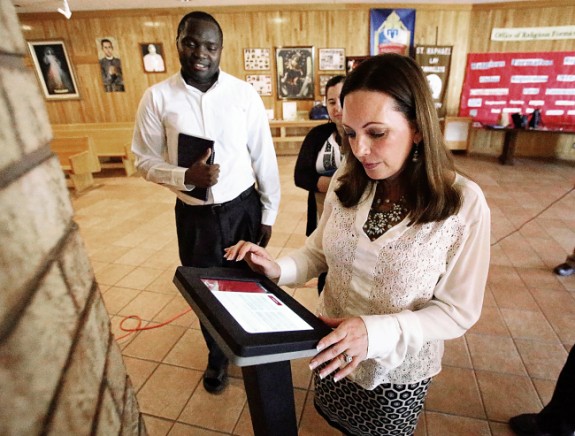 Details from The El Paso Times: 
The Catholic Church has always been steeped in tradition and not technology.

On Saturday, two Catholic churches will break from tradition and take a step toward the digital age by adding a touch pad on a stand, called a kiosk, for people to make credit-card donations to the church or to other El Paso Catholic Diocese ministries.

"Passing the basket and taking those gifts to the altar is a very important part of the Mass. And we will have cards that say 'I gave at the kiosk.' But we have to meet people where they are, and younger people do everything electronically," said Janine Young, chief executive officer of the Foundation for the Diocese of El Paso.

Parishioners will be able to swipe their credit cards on the electronic devices at St. Raphael Catholic Church and St. Frances Xavier Cabrini Parish. The touch pads will be available starting with Saturday Masses. The churches were chosen because they are on the East Side where there continues to be growth in families.

Young said the diocese started looking into the touch pads when they noticed that financial giving to the diocese and to the foundation was generally flat. They also found that some Catholic churches in big cities like Dallas and San Francisco use them successfully.
Photo by Rudy Gutierrez / El Paso Times