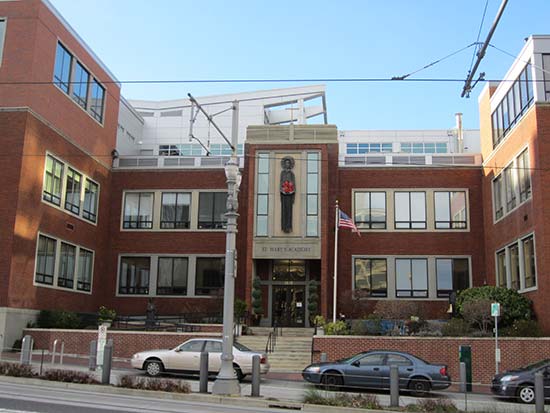 St. Mary's Academy in Portland may face a lawsuit filed by a woman whose job offer was withdrawn after she told school officials she planned to marry another woman.

"Like other Catholic schools, St. Mary's Academy is grounded in the teachings of the Catholic Church and asks faculty and staff to support those values," says a statement from the school. "St. Mary's understands that others may hold different values, and we respect the right of individuals in society to do so."

St. Mary's attempted to resolve the situation with the applicant, who was not named in the statement. But, the school said, "we have been unable to find an amicable resolution."

The school, sponsored by the Sisters of the Holy Names of Jesus and Mary, says it is part of a faith community that is obligated to follow current Catholic teachings regarding same-sex marriage in its employment practices.
The Oregonian, meantime, identifies the woman and adds more background:
Lauren Brown said the private Roman Catholic school in late July pulled its offer for a college counseling position after she told an administrator about her sexual orientation.Willamette Week reported late Tuesday that Brown was offered a year's salary to withdraw from consideration and to keep quiet about it.

Christina Friedhoff, president of the all-girls school, acknowledged the situation in a letter sent home to parents Tuesday.

"St. Mary's is grounded in the Catholic religion," Friedhoff wrote. "We ask that the faculty and staff support and nurture the Catholic identity, practice, culture and mission on which we were founded.

…Friedhoff asked parents to pray for the school, which she said will experience a "difficult time" given the public attention the decision has generated.

The school, which traces its roots back to 1859, has about 700 students. Classes for the upcoming academic year are scheduled to begin next week.

The school's usually lively Facebook page and Twitter feed have both been suspended. The school's website continues to link to the pages, though they show all content is unavailable.

Photo via St. Mary's Academy