Here's something you don't see every day: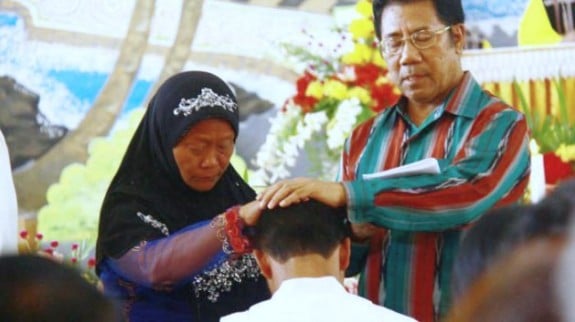 A Muslim mother gave her blessing and support to her son who recently became one of the 11 newly ordained priests from the Societas Verbi Divini (SVD) order in the presence of Archbishop Vincensius Sensi Potokota.

Robertus Belarminus Asiyanto, 31, was ordained last Oct. 10 at the St. Paul Ledalero Seminary, Maumere, Flores, East Nusa Tenggara. During the ordination rites, he was accompanied by his mother, Siti Asiyah, who was wearing Islamic dress, including the hijab.

Despite her religious beliefs, Asiyanto's mother laid her hands on her son's head and said that she was really happy to see her son ordained as a Catholic priest. Everyone in the celebration applauded her gesture and statement, and admired her love for her son as she was in tears while witnessing the ordination rites.

Fr. Leo Kleden, Superior Provincial of SVD Ende Province, said that Asiyanto was born in Flores and spent his early childhood in a Catholic neighborhood. "He has been a Catholic since he was a kid, perhaps since he was in primary school," he said.

With a strong desire to pursue his priestly calling, Asiyanto proceeded to the seminary, and prior to his priestly ordination, asked for the blessing of his mother as it was really a big thing for him. Asiyanto's mother said, "follow your heart."

"She is a remarkable mother. She raised her son well and gave him the freedom to become a priest," he also added.
And Fr. Robertus, we can only add: Ad multos annos! 
Photo: CBCP News