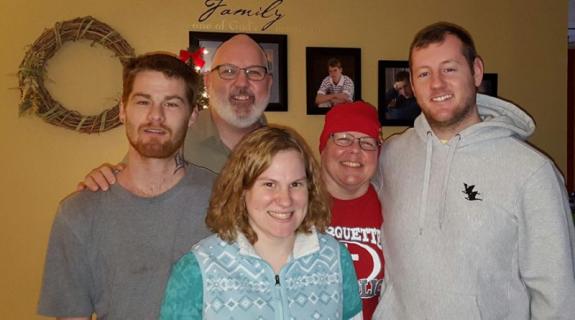 Here's a great piece from The Witness, the newspaper of the Archdiocese of Dubuque, noting that an increasing number of men are being ordained to the priesthood when they are older. One of them, by the grace of God, will be my friend Deacon Sean Smith, among others:
Deacon Sean Smith of Cedar Rapids is no stranger to the title "father." As the dad to three adult children, it is one he has held for many years. But that title will take on an additional meaning in the spring of 2020 when he is ordained a priest for the Archdiocese of Dubuque and becomes known as "Father Smith" to the people he serves.

Fifty-three-year-old Deacon Smith has recently been accepted to Mundelein Seminary in Illinois. Given his years of diaconate formation, his previous graduate studies in theology, and his decade and a half as an ordained deacon, his priestly formation path will be a bit different. Deacon Smith will study at Mundelein for two years, rather than the typical four, before he will be ordained a priest.

Deacon Smith, a New York native, grew up in Michigan and lived in Ohio, North Carolina and Texas before transferring with the company he worked for to eastern Iowa in 1993. He came to Iowa with his wife, Sara, with whom he raised children Duane, Ryan and Felicia. The couple was married for 30 years before Sara died in 2016 following a three-year battle with breast cancer.

Deacon Smith first recognized his call to ordained ministry in 1992 when he attended a charismatic conference with wife Sara and some other members of his family. At the closing liturgy of the conference a bishop did an "altar call" for those that might be considering a vocation as a priest, religious or a deacon.

"I felt 'called,' so I responded, much to the surprise of my wife and family!" Deacon Smith remembered. "I was only 27 years old at the time, so it took a while for the vocation to develop."

He was ordained in 2003, and since that time has served in several parishes in the archdiocese…

…Deacon Smith said he is pursuing the priesthood for the same reason he pursued the diaconate — because he believes God is calling him to it.

"Actually, it feels like this call to be a priest is really just a continuation of that call 25 years ago," he said.

Smith said that his wife was and remains a part of his journey to the priesthood. "Sara and I talked about the possibility of my becoming a priest, and I know that she is praying for me," he reflected.