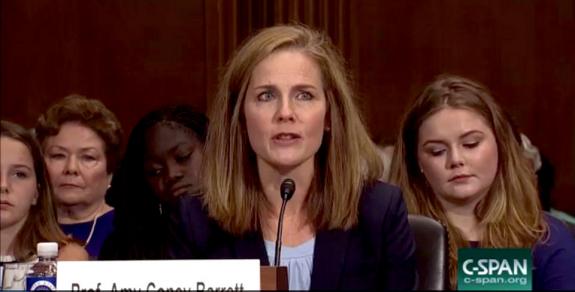 The National Law Journal has a good overview of Judge Amy Coney Barrett, said to be on Donald Trump's short list of contenders to replace Anthony Kennedy on the Supreme Court. There's a lot to love about Barrett—a Notre Dame grad, observant Catholic, and mother of seven children who has written about her faith and drawn some fire for it.
The Journal notes:
If Barrett gets the nod, the stakes are much higher, and "strict scrutiny" inside and outside of Senate will be intense.

The Supreme Court's landmark abortion-rights ruling—Roe v. Wade—will not likely be overturned, Barrett said in 2013 at a "professors for lunch series" at Notre Dame. She pointed to the Supreme Court's 1992 ruling in Planned Parenthood v. Casey—in which Kennedy, with justices Sandra Day O'Connor and David Souter, reaffirmed the core holding that respected a woman's right to choose to have an abortion.

"I think it is very unlikely at this point that the court is going to overturn Roe or Roe as curbed by Casey. The fundamental element, that the woman has a right to choose abortion, will probably stand," Barrett said. "The controversy right now is about funding. It's a question of whether abortions will be publicly or privately funded."

Barrett could face questions about her faith and recusals. In the heightened scrutiny of a Supreme Court confirmation hearing, Barrett's devout Catholicism may be examined again, even though it may prove treacherous ground for any senator who does so.

During Barrett's Seventh Circuit confirmation hearing, Sen. Dianne Feinstein, D-California, triggered an uproar from prominent conservatives and Catholics when she suggested Barrett might be disqualified from serving as a judge because of her Catholic faith. Feinstein partially quoted from a 1998 article Barrett wrote with Catholic University of America president John Garvey, entitled "Catholic Judges in Capital Cases." The quotation was: "Litigants and the general public are entitled to impartial justice, and that may be something that a judge who is heedful of ecclesiastical pronouncements cannot dispense."

Feinstein said to Barrett: "When you read your speeches, the conclusion one draws is that dogma lives loudly within you. And that's of concern when you come to big issues that large numbers of people have fought for for years in this country."

Barrett said her religious beliefs would not affect her decisions as a judge. "It's never appropriate for a judge to impose that judge's personal convictions, whether they arise from faith or anywhere else, on the law," Barrett said.

The quoted sentence was a small part of a lengthy examination of the dilemma Catholic judges may face in capital cases at the trial, sentencing and appeals levels. But it also suggested ways, such as recusal, that judges could deal with the dilemma and still faithfully apply the law. The article concluded: "Judges cannot—nor should they try—to align our legal system with the Church's moral teaching whenever the two diverge. They should, however, conform their own behavior to the Church's standards. Perhaps their good example will have effect."
There's much more to mull. Read it all.