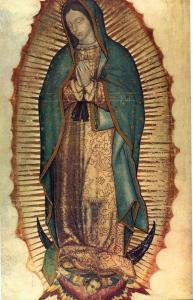 This hasn't gotten nearly the attention it deserves. But attention must be paid.
From Crux:
As violent oppression continues to rise in Nicaragua, with at least 10 people killed on Sunday, Catholic bishops have called for a day of prayer and fasting for July 20 "as an act of atonement for the profanation carried out in recent months against God."

On that day, the bishops said, "We will pray the prayer of exorcism to St. Michael Archangel."

Recent developments that led the bishops to issue the call include:

On Tuesday, according to the auxiliary bishop of Managua, the country's capital, the neighborhood of Monimbo in the southeast city of Masaya was under attack. He said gunfire reached the parish of St. Mary Magdalene, where a Catholic priest was seeking refuge.
On Saturday, the Divine Mercy Church in Managua was under siege for 16 hours. It had become a refuge for students who, while protesting at a nearby university, were attacked by pro-government forces. Pictures posted to social media showed the church had been pockmarked by bullets.
On Sunday, the car of a bishop was shot at as he was on his way to the northern city of Nindiri, where he had hoped to stop an attack by the military. He wasn't wounded, but the tires and windows of the car were destroyed.
On the same day, the house of a priest in Masaya was ransacked by the police. Belongings were taken with no explanation given.
On Monday, a center of the papal charity Caritas was set aflame in the northern city of Sébaco.
On July 9, a cardinal, a bishop and the papal representative were among clergy from Managua attacked as they attempted to protect St. Sebastian Basilica in the nearby city of Diriamba from a pro-government mob.

The list, though incomplete, serves as an illustration of the situation under President Daniel Ortega and his wife, the country's vice president, who've labeled the Catholic Church as public enemy number one, amid a crisis that exploded in April with widespread protests against a social security reform plan that was never implemented.

"In Nicaragua, amidst this reality of violence, manifestations of evil are expressing themselves in this irrational and disproportionate violence," said Father Boanerges Carballo, Managua's episcopal vicar for pastoral affairs.
Yesterday, the brief video below, showing an apparent desecration of a tabernacle and consecrated hosts, appeared on social media with the explanation: "This was done today in Nicaragua – The priest posted a quick video for his bishop. Please pray. Heartbreaking." It's unclear where, exactly, this originated. (Please be patient. It may take a moment to load.)
Pray for the people of Nicaragua, their priests, their bishops. Our Lady of Guadalupe, patroness of the Americas, pray for us!
This was done today in Nicaragua – The priest posted a quick video for his bishop. Please pray.. Heartbreaking

Posted by Peg Drebena Demetris on Thursday, July 19, 2018