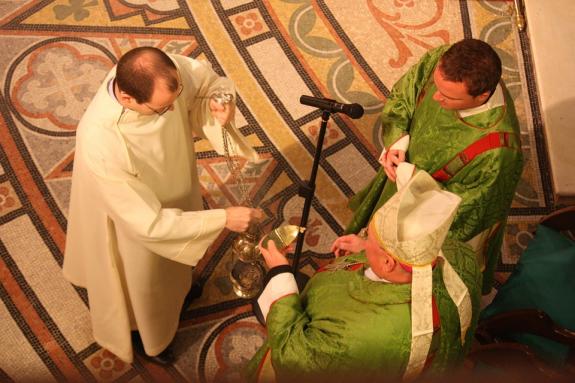 CNS picks up on something many of us have noticed: the increasing popularity of Sunday night liturgies.
Going to church on Sunday morning is a tradition for most Catholics, but a new trend may be emerging: Sunday-evening Masses.

St. Michael the Archangel in South Glens Falls is one of nearly a dozen parishes in the Diocese of Albany that offer a Sunday-night Mass. It's the only parish in that area with an evening Mass on Sundays.

Five years ago, Fr. Guy Childs, pastor, started offering a 5:30 p.m. Mass on Sundays at St. Michael twice a month. It quickly became popular. In 2015, it became a weekly offering.

"It really does fit a need," the pastor explained in an interview with The Evangelist, Albany's diocesan newspaper.

According to a census of Massgoers across the diocese conducted every October, 71 parishioners attended St. Michael's 5:30 p.m. Mass in 2016 on the weekend surveyed.

When the October Mass count was repeated in 2017, 134 parishioners attended the Mass — around a 30-percent increase from the previous year.

Childs said the evening Mass is beneficial for families who want a chance to sleep in on Sunday or have weekend obligations that may keep them from attending morning Mass. The evening Mass gives parishioners a "last chance to get to Mass on Sunday," he said.

"It definitely provides a service," agreed Fr. James Belogi, pastor at St. Madeleine Sophie Parish in Schenectady, which offers a Sunday 7 p.m. Mass. "People have come up and thanked me for the Mass."

JeanAnn Dennis, a parishioner at St. Michael, attends the evening Mass there because it fits into her schedule. Some weekends, she doesn't have time to get to the 4 p.m. Saturday vigil Mass, and she watches her grandchildren all day on Sundays.

Having a Sunday-evening Mass makes things easier, she said. "There are people there who solely go to the 5:30 p.m. It's amazing how popular it is."
That being said, I've found some resistance to this among priests I know, who find that Sunday night liturgies can turn an already-long and sometimes wearying day into a marathon. Many clergy look forward to visiting family, going out to dinner or taking a breather on Sunday nights; this schedule throws a monkey wrench into that.  But if enough people want this, and need this, it will happen.