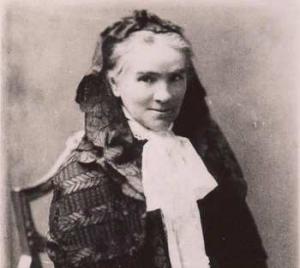 Chances are you haven't heard of her — she's a new name to me — but interest is evidently growing in pursuing this Welsh woman's cause for canonization.
From the Catholic Herald: 
Teresa Higginson was oblivious to the blood trickling down her neck and on to her white scarf as she emerged from the church where she had been praying. A colleague spotted the stain and quietly advised her to change before returning to teach in a nearby school, later saying she would never forget Teresa's expression when she realised what was happening.

Yet it was not the blood that horrified Teresa, but the fact that someone noticed the wounds of Christ that she strived to conceal.

She first received the stigmata in Wigan, Lancashire, on the Good Friday of 1874, and by summer of 1880 her head and hands were bleeding several times a day, including in the classroom of St Alexander's School in Bootle, Liverpool, witnessed by pupils and teachers alike.

The stigmata was something of a humiliation to her. She prayed to Jesus to give her more pain in exchange for staunching the flow, only to then reproach herself for her "ingratitude and selfishness", understanding that what she was experiencing was part of a divine plan.
Among other things, she is said to have received private revelations from Jesus, who encouraged devotion and public worship to the Sacred Head as the Seat of Divine Wisdom.
She died in 1905, following a stroke. Her nurse said "there was an exquisite perfume coming form her, filling the room with a sweet odor." There's more:
She was buried beside her mother at St Winefride's in Neston. The grave is today a place of pilgrimage, with her cult enduring in spite of the Vatican pronouncement in 1938 that her Cause was non-expedire – in other words, it should not proceed at that time.

Bishop Mark Davies of Shrewsbury, the diocese in which Teresa is buried, is among the many senior Catholics who are sympathetic to the devotion of the Sacred Head, while in Liverpool sources say that Archbishop Malcolm McMahon has taken a recent deep interest in her life.
Canon Alfred Snow, her spiritual director for 22 years, later said he was convinced that Teresa "was not only a saint but one of the greatest saints Almighty God has ever raised up in his Church".
Read the rest here. 
There's also a website devoted to "12 Promises of the Sacred Head," which includes:
"I wish the first Friday after the feast of my Sacred Heart to be set apart as a festive day in honour of my Sacred Head as the Seat of Divine Wisdom, and that public adoration be offered to Me for all the outrages and sins which are continually being committed against Me." "It should be dedicated as a festive day in its honor, and special reparation and atonement be then offered to Him." (Juni 2, 1880)

"The Sacred Head was in a special manner the dwelling place of the Holy Ghost." Our Lord "wished the great mystery of the Incarnation to be made very clear (or taught very carefully) to the children." (Whitsuntide 1881)