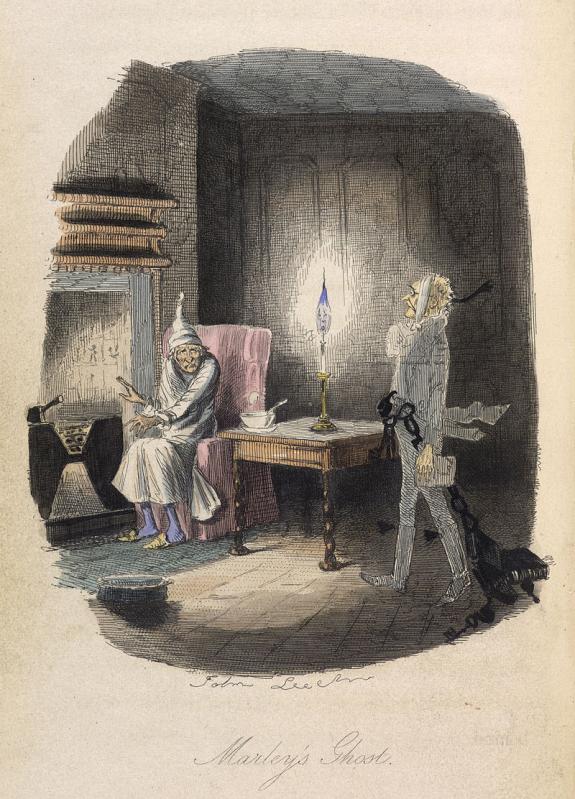 We're heading into the "most wonderful time of the year" when, a popular song tells us, "there will be scary ghost stories and tales of the glories of Christmases long long ago…" But aside from the greatest haunted tale of all, by Mr. Dickens, how many other "scary ghost stories" do we tell during the holidays? Not many.
But according to this intriguing piece by Colin Dickey in Smithsonian Magazine, that wasn't always the case:
Telling ghost stories during winter is a hallowed tradition, a folk custom stretches back centuries, when families would wile away the winter nights with tales of spooks and monsters. "A sad tale's best for winter," Mamillius proclaims in Shakespeare's The Winter's Tale: "I have one. Of sprites and goblins." And the titular Jew of Malta in Christopher Marlowe's play at one point muses, "Now I remember those old women's words, Who in my wealth would tell me winter's tales, And speak of spirits and ghosts by night."

Based in folklore and the supernatural, it was a tradition the Puritans frowned on, so it never gained much traction in America.
Somehow, Halloween ended up becoming the holiday for ghost stories. Dickey argues it's time to rethink this:
For decades, these two celebrations of the oncoming winter bookended a time when ghosts were in the air, and we kept the dead close to us. My own family has for years invited friends over around the holidays to tell ghost stories. Instead of exchanging gifts, we exchange stories—true or invented, it doesn't matter. People are inevitably sheepish at first, but once the stories start flowing, it isn't long before everyone has something to offer. It's a refreshing alternative to the oft-forced yuletide joy and commercialization; resurrecting the dead tradition of ghost stories as another way to celebrate Christmas.
He concludes with this thought from William Dean Howells published in Harper's in the late 1880s:
"It was well once a year, if not oftener, to remind men by parable of the old, simple truths; to teach them that forgiveness, and charity, and the endeavor for life better and purer than each has lived, are the principles upon which alone the world holds together and gets forward. It was well for the comfortable and the refined to be put in mind of the savagery and suffering all round them, and to be taught, as Dickens was always teaching, that certain feelings which grace human nature, as tenderness for the sick and helpless, self-sacrifice and generosity, self-respect and manliness and womanliness, are the common heritage of the race, the direct gift of Heaven, shared equally by the rich and poor."