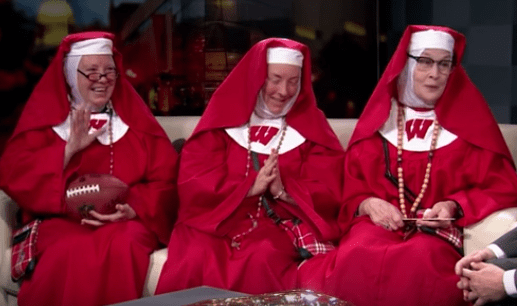 Although many Badgers' prayers were not answered Saturday in a tough loss to Northwestern, three super fans clad in red and white habits blessed Camp Randall to lift fallen spirits.

Sister Mary Touchdown, Sister Hail Mary and Sister Mary Bucky—also known as the Badger Nuns—religiously attended all but one home game this season, where their infectious team spirit helped rally fans.

"We are just passionate about the Badgers," Sister Mary Touchdown said. "We love going to the games, rallying the crowd and trying to get the Badgers to win."

Sister Mary Bucky would say the women were "called to" their positions as Badger Nuns, but the group costume was actually inspired by an Ice Bucket Challenge video in which a group of Irish nuns wore red and white habits. Sister Mary Touchdown recreated the look, adding a motion W to the front and "In Chryst We Trust" to the back.

The three Catholic-raised friends may not be formally recognized as "real" nuns, but their fan following has grown wildly throughout the semester.

"It's so fun because we really do get the nicest reactions from people," Sister Mary Touchdown said. "Every time we say 'go Bucky,' they cheer right with us."
Read on. And you can watch a video interview with the ladies right here. 
No word on what the Church thinks of this.