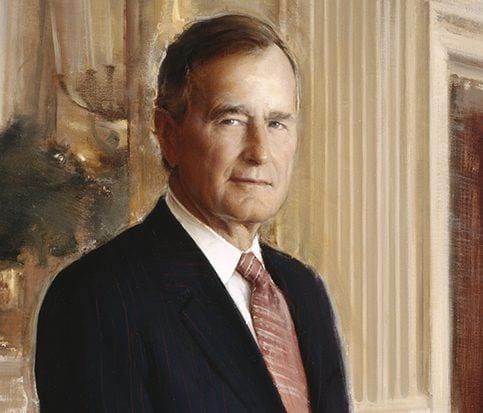 The 41st President of the United States died Friday night at his home in Houston at the age of 94.
Last year, historian Gary Scott Smith noted that, above all, he was for all his life a man of quiet but persistent faith:
Bush was raised by devout Episcopalian parents and remained affiliated with this denomination almost his entire life. His father Prescott, a Republican senator from Connecticut, and his mother Dorothy led family worship every morning, using readings from the Episcopal Book of Common Prayer and A Diary of Private Prayer by Scottish Presbyterian theologian John Baillie. They strove to teach their children how the Bible applied to daily life. While worshipping for many years at Episcopal churches in Houston, Washington, and Kennebunkport, Maine, Bush's theology and social policies have more in common with evangelicals than with many fellow Episcopalians.

While flying a combat mission for the Navy in September 1944, Bush's plane was severely damaged on a bombing mission, forcing him to parachute into the Pacific Ocean south of Japan. The Japanese hunted him, but a U.S. submarine picked him up. Bush thanked God for saving his life and asked, "Why had I been spared and what did God have for me?"

Their three-year-old daughter Robin's battle with and eventual death from leukemia in the early 1950s both tested and deepened Bush's faith. He declared that "prayer had always been part" of his and his wife Barbara's lives, but it became more fervent during this ordeal. "Our faith," Bush testified, "truly sustained us."

Bush saw God as active and all-powerful and the Bible as divinely inspired and authoritative. "One cannot be America's President," the Republican frequently asserted, without "the strength that your faith gives to you." The Bible, which had helped shape America's values and institutions, Bush attested, "has always been a great source of comfort to me." He affirmed that Jesus was God's divine Son and frequently referred to Christ as "our Savior." Moreover, Bush peppered his speeches with biblical quotations, precepts, and stories to underscore his positions.

Bush began his 1989 inaugural address by praying, "Heavenly Father, we … thank You for Your love." Strengthen us "to do Your work." Make us "willing to heed and hear Your will, and write on our hearts these words: 'Use power to help people.'" Bush's cabinet meetings always began with prayer. The Bushes prayed together every night before going to sleep. "My husband," Barbara declared, "prays and believes enormously." During his presidency, Bush referred to prayer in 220 different speeches, proclamations, and remarks. In hundreds of letters Bush thanked citizens for praying for him and testified that he drew "great strength" from their prayers.
Read on. 
Here is the beginning of  his first inaugural address, which bears the eloquent touch of Peggy Noonan — and reminds us of the kind of honest piety and simple grace that is now so rarely heard from our leaders:
We meet on democracy's front porch. A good place to talk as neighbors and as friends. For this is a day when our nation is made whole, when our differences, for a moment, are suspended. And my first act as President is a prayer. I ask you to bow your heads.

Heavenly Father, we bow our heads and thank You for Your love. Accept our thanks for the peace that yields this day and the shared faith that makes its continuance likely. Make us strong to do Your work, willing to heed and hear Your will, and write on our hearts these words: "Use power to help people." For we are given power not to advance our own purposes, nor to make a great show in the world, nor a name. There is but one just use of power, and it is to serve people. Help us remember, Lord. Amen.
He concluded with these words:
There is much to do. And tomorrow the work begins. And I do not mistrust the future. I do not fear what is ahead. For our problems are large, but our heart is larger. Our challenges are great, but our will is greater. And if our flaws are endless, God's love is truly boundless.

Some see leadership as high drama and the sound of trumpets calling, and sometimes it is that. But I see history as a book with many pages, and each day we fill a page with acts of hopefulness and meaning. The new breeze blows, a page turns, the story unfolds. And so, today a chapter begins, a small and stately story of unity, diversity, and generosity — shared, and written, together.
May the Lord bless him and keep him.
From the Book of Common Prayer:
O Almighty God, the God of the spirits of all flesh, who by a voice from heaven didst proclaim, Blessed are the dead who die in the Lord: Multiply, we beseech thee, to those who rest in Jesus the manifold blessings of thy love, that the good work which thou didst begin in them may be made perfect unto the day of Jesus Christ. And of thy mercy, O heavenly Father, grant that we, who now serve thee on earth, may at last, together with them, be partakers of the inheritance of the saints in light; for the sake of thy Son Jesus Christ our Lord.
Eternal rest grant unto him, O Lord …