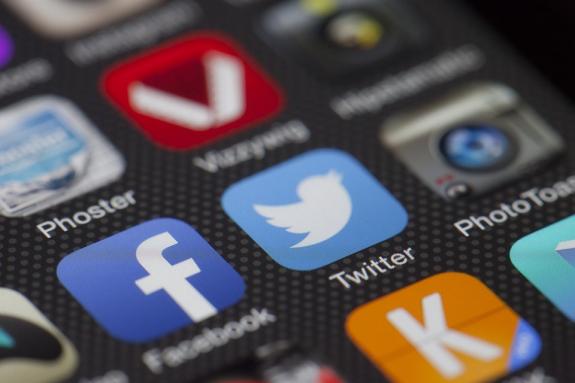 I hadn't heard about this until this week, but she's been doing it ever since he came into office.
From The New York Times: 
In 2005, Sister Susan Francois entered the Sisters of St. Joseph of Peace religious order on the West Coast. It was around this time, she said, that she noticed other nuns praying for President George W. Bush and then, President Barack Obama. In 2017, two years after she had relocated to the St. Joseph headquarters in Englewood Cliffs, N.J., Sister Susan decided to take her own presidential praying practice to the next level: Twitter.

Q. How did you come to tweet prayers to the president?

A. I was sitting in the Chicago O'Hare Airport, waiting for my flight back to Newark. It was a few days after Trump's inauguration, and on the TVs in the background were arguments about "alternative facts." I thought, "I am going to go crazy if I don't come up with some calming spiritual practice that keeps me engaged but does not add to the negativity." When I sent the first tweet, it was purely for myself. I didn't expect it to make a big splash. But that fact that it was public and that I committed to it every day means I have to do it, even if I don't want to. It's been the hardest spiritual practice I've ever committed to.

What is your process for coming up with the tweets?

I pray with the sisters, and then I pray with the news. I pray with the stories that are there, and that has been the foundation of my morning prayer for 15 years.

I usually just sit for a little while and see what comes. If there is a particular thing happening, then I will take that to prayer until I can get that to a whole statement that is not toxic, because that is what I am trying to do: Come from a place of integrity while remaining engaged.

Why do you tweet at his official account, rather than @realDonaldTrump?

My understanding is that @POTUS is archived, and from my academic research on resistance as a response to injustice, it is important for consistency and for history to know that ordinary people didn't look away. I wanted it to be a record of history that a Catholic sister wanted to tweet a nonviolent prayer at the president. In looking back at some tweets, I realize that on Feb. 20 of this year, I switched my format and started my tweets with "Dear @Potus." Before that, I would just launch into the tweet. When you pray for someone every day for more than a year, you start to build some sort of a relationship, even if one-sided.