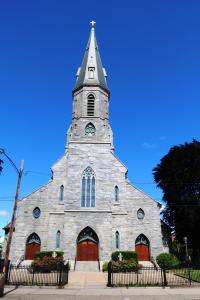 From News 12 Connecticut:
Police officers on patrol in Bridgeport discovered a swastika on the doors of the cathedral.

Police say the swastika was found on the doors of St. Augustine's Cathedral. Police say when they went up to the doors the paint was still tacky.

Police tell News 12 the surrounding buildings have surveillance cameras and hope the footage will help with their investigation.
Bridgeport's Bishop Frank Caggiano released the following statement Saturday:
As many of you know, on Friday morning, police officers on patrol discovered a swastika painted on the doors of the Cathedral of St. Augustine in Bridgeport. Though the police have yet to identify the perpetrator of this crime, I am appalled and outraged by this act of vandalism against the Mother Church of our Diocese and this brazen and disgusting display of anti-Semitism which is morally abhorrent and an affront to our Catholic faith. It is deeply distressing to see such a display of hatred at a time when we need to strengthen our efforts to come together as a community in mutual respect and support. My thoughts and prayers are with our Jewish brothers and sisters in the city of Bridgeport and beyond. We stand with you and condemn every form of anti-Semitism, racism, and bigotry wherever it may be found.

As I am on retreat with the other bishops of the United States in Mundelein, this incident only came to my attention this afternoon. I am deeply disturbed and outraged that someone would violate the sanctity of our Church. To use a clearly anti-Semitic symbol is participating in unspeakable evil. I know I speak for everyone at the Cathedral Parish and the Diocese as we condemn the act, we condemn what it signifies, and we hope the perpetrator will be found.