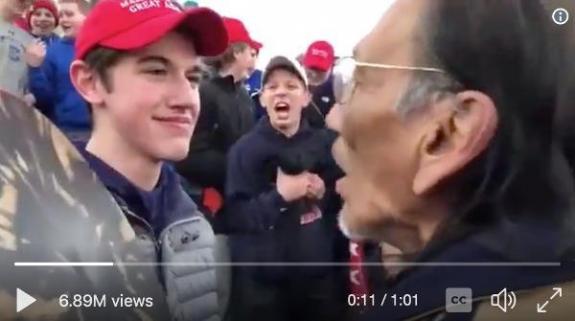 Robert C. Bordone, founder of the Harvard Negotiation and Mediation Clinical Program, offers a compelling and very Catholic approach to healing: 
The entire string of events, including the rush to judgment and public shaming of the boys, has been painful to witness. But something of value can come from all this, something more ennobling than "Check your facts before railing about how horrible someone is."

The students have an opportunity to go beyond seeking legal remedies, to use this moment for reconciliation rather than retribution. As Catholics we have an opportunity to remind ourselves of who we are called to be. This is our moment to demonstrate what it means to be the salt of the earth and the light of the world…

… As a conflict resolution scholar and practitioner, I see a way forward, found in Catholic tradition, that can ameliorate some of the damage from this incident. What would it look like to convene Mr. Sandmann and the other students, Nathan Phillips if he is willing and available, possibly other representatives of Native American groups, and perhaps even a few of the Black Hebrew Israelites, together with trained facilitators to help them have a genuine and open conversation?

The purpose would not be for a photo-op, or for one side to prove the other wrong, but for genuine listening, vulnerability and curiosity. It could be a conversation where all parties believe they have their own valuable perspectives but also believe they can learn from each other and have something to offer each other—in the form of apology, forgiveness and, perhaps, reconciliation and personal transformation.

From a Catholic perspective, what a powerful moment of evangelization this could be! To show that Jesus' willingness to meet the other has no bounds. To show that mutual forgiveness, learning and healing can exist even in a national environment of recrimination, humiliation and public shame.