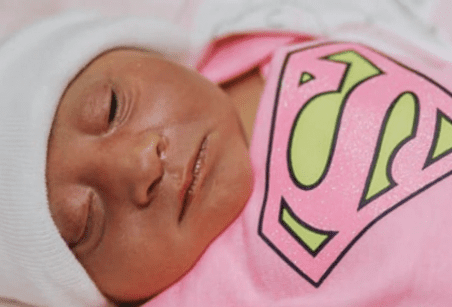 What would you do if you learned your unborn had a rare brain disease and would die hours after being born?
This young couple decided to carry their baby to term — and in doing so, gave her the chance to save others.
This story is a stunner:
When Krysta Davis was 18 weeks pregnant, she and her partner Dereck Lovett were told that their unborn child had anencephaly, a serious birth defect in which a baby is born without parts of the brain and skull. Babies born with the condition are expected to live anywhere from several moments to just a few days. It was then that they were told they could induce labor and deliver their baby or go ahead with the pregnancy and donate the baby's organs to other children. The latter is what Davis and Lovett opted to do, and on Christmas Eve, Davis delivered a baby girl named Rylei Arcadia Diane Lovett.

In a post shared to the Facebook page the parents created for their daughter, Rylei Arcadia: An Unexpected Journey, Davis wrote, "At 5:04 p.m., we welcomed this beautiful little girl into the world. Rylei Arcadia Diane Lovett came out 19 inches long weighing 6 pounds even. She has amazed me from the moment I saw her little face. I am so in love with my daughter and I am so grateful to all of the people who shared this day with her. I am so happy to report that she has defied all of the odds by breathing on her own for almost 9 hours. I love her so much. Thank you all for your continued thoughts and prayers. She is so perfect."

…Ultimately, Rylei served as a hero for other newborns, donating two heart valves. Her lungs were also donated for research and development of anencephaly.
Read more. And check out the local news report below.