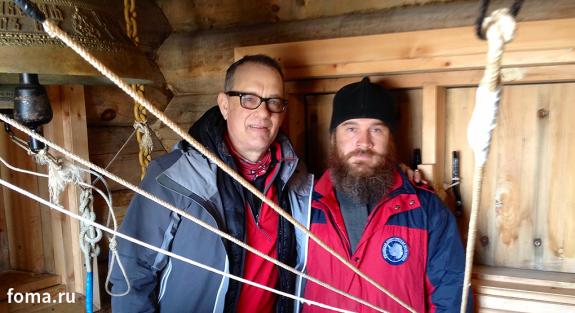 This is, in every sense, very cool: 
Famous actor Tom Hanks visited the Orthodox church of the Life-Giving Trinity in Antarctica at the Russian polar station "Bellingshausen" on Waterloo Island, Deacon Maxim Gerb, a cleric of the church in Antarctica, told the journal Foma.

"Many interesting people visit our church, including Tom Hanks who was recently sailing past our island on a yacht. He is a very open and friendly person. After he lit some candles I suggested to him to climb up to the bell tower, so I could attest that Forrest Gump was in Antarctica and can now ring bells pretty well," commented Deacon Maxim on the actor's visit, in his account of the life of the Orthodox community in Antarctica.
Hanks joined the Greek Orthodox Church when he married Rita Wilson in 1988 — and two of them famously produced two huge Greek-themed hits, "My Big Fat Greek Wedding" and "Mamma Mia."
Here's an interesting
take
on his religious views:
Hollywood actor Tom Hanks appreciates his membership in the Orthodox Church and intends to raise his four children in similar vein.

"I am aware that it is vitally important to come to church and contemplate those substantial questions put by the Orthodoxy and the answers it offers," Hanks said in an interview published by Argumenty i Fakty.

According to him, when a man arrives at a decision to marry and have children, "it is crucial to define spiritual heritage of a future family at this stage."

"I consider Greek Orthodoxy my own spiritual heritage. I got married in the same church where my wife had been baptized. My children were baptized in the same baptismal font as my wife," Tom Hanks said.

According to Hanks, this makes his family "a part of the large universal Church."
And this article from last year noted that he celebrated Easter with his family at St. Sophia's Church in Los Angeles.