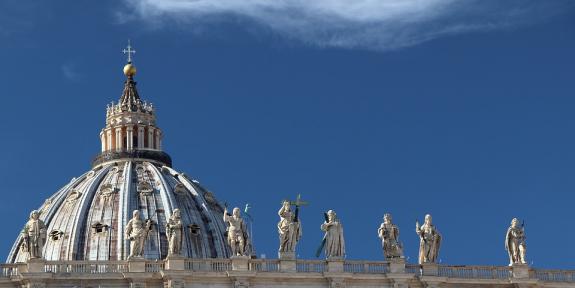 From The Washington Post: 
A rare, leaked report revealed great uncertainty in the 2013 selection of Pope Francis, with a huge number of cardinals getting votes — including, for the first time, top spots for an American and a Canadian.

In 2013, the top four vote-getters were one Italian, Angelo Scola; Jorge Bergoglio, or Pope Francis, from Argentina; Canadian Marc Ouellet; and Sean O'Malley, the archbishop of Boston, according to an article published Friday by America, a Catholic news site.

Scola got 30 votes, Bergoglio 26, Ouellet 22, and O'Malley 10. These were the highest votes ever in a conclave for North Americans, experts said.

Some said it showed the cardinals were strongly driven by a desire for geographical diversity, as the church has been shrinking for years in Europe. Others said Bergoglio's rise, and a strong showing for O'Malley, showed voters' attraction to clerics known for their focus on the poor, immigrants, social questions, and a simple lifestyle — compared with those known for their theological focus and correctness and clarity.

Kathleen Sprows Cummings, a historian who runs a center for the study of US Catholicism at the University of Notre Dame, said Friday she was shocked O'Malley got so many votes. She noted New York City's archbishop, Timothy Dolan, got two votes in that first round, according to America.
''If reporters would ask [in 2013]: 'Could an American be pope?' I'd laugh. But now I'm not sure about that,'' she said.
From America: 
To an outsider, that scattered first vote might have given the impression of great uncertainty, but the electors saw it in a very different light. Cardinal Oswald Gracias, for example, told me he read it this way: "The Holy Spirit was indicating already, the Holy Spirit was leading us in a particular direction. God was there right through." Several other cardinals told me they had interpreted the first vote in a way that was similar to that of Gracias.

The vote revealed several things. It showed that Scola was the only strong European candidate in line to succeed Benedict, and while this pastor and eminent theologian had support, it was at the lower end of what had been expected on the eve of the conclave, when cardinals and much of the Italian press had anticipated that he would be out in front with around 40 votes. Naturally, this came as a disappointment to his supporters.

More important, the vote confirmed what many already knew or suspected: the 28 Italian electors were deeply divided about Scola. Indeed, as the history of the last two conclaves (October 1978 and April 2005) showed, when the Italians are divided, an Italian will not be elected. Was history about to repeat itself? That first ballot seemed to indicate to many electors that the next pope would not be European; he would come from the Americas. It also left little doubt that Scherer was out of the race; he was seen as the candidate of the status quo in a conclave that was looking for radical change. Apart from Scola, the result left three other candidates standing: Bergoglio, Ouellet and O'Malley, in that order.
Read the full story. 
I suspect a lot of people are wondering how this information leaked out. Worth noting: the participants in the conclave are sworn to secrecy, on pain of excommunication. But that evidently does not include revealing results after the conclave is completed.
John Thavis wrote back in 2013:
The conclave rule book, a 1996 apostolic letter called "Universi Dominici Gregis," says cardinals "are forbidden to reveal to any other person, directly or indirectly, information about the voting and about matters discussed or decided concerning the election of the Pope in the meetings of Cardinals, both before and during the time of the election." (my emphasis)

In 2005, then-Cardinal Joseph Ratzinger, who chaired the general congregations, was said to have exhorted cardinals on multiple occasions not to give interviews about the content of these meetings…

…How seriously does the Vatican take breaches of conclave rules?

The word "excommunication" says it all.

There's excommunication for breaking the rule of secrecy – which by the way covers words, signals or any other form of communication, and applies to the voting and the discussions carried out before and during the conclave.

The punishment of excommunication also awaits cardinals who engage in simony – the buying and selling of votes – or who engage in vote-trading agreements, such as promises to swing a bloc of votes to a certain candidate at some point in the conclave.

Any cardinal who tries to interfere with or influence the conclave on behalf of a civil authority will find himself excommunicated, too.
Also worth noting: this isn't the first time these details have leaked out. Before the conclave gathered to elect Benedict's successor in 2013, The New York Times had a detailed account of the previous election, including who got how many votes.