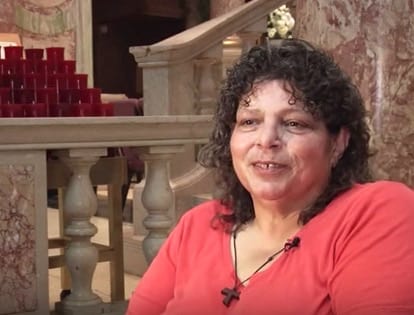 I was saddened to learn today that a beautiful soul, Angela Scannapieco, has gone home to the Lord, her spouse.
Some may remember when I profiled Angela two years ago on my blog: 
My parish tonight completed a nine-week Novena for Vocations, featuring guest speakers every week on different vocations, and our speaker tonight was Angela— one of two consecrated virgins in the Diocese of Brooklyn.
She made news and made history 16 years ago:
After several years of prayer and preparation, two Brooklyn women were consecrated as virgins yesterday during a Catholic ceremony that was last performed in the diocese in the mid-19th century.

At a time when sex is seemingly everywhere but virginity is in the news – thanks to pop star Britney Spears' pledge of abstinence – the women committed themselves to a life of celibacy during the Solemn Rite of Consecration of Virgins for Women Living in the World.

The ceremony dates back to the church's ancient days and can only be performed by a bishop, in this case Bishop Thomas Daily of Brooklyn, who presided at Cathedral Basilica of St. James in downtown Brooklyn.

"This doesn't happen very often. It's an ancient ceremony. But these two young women want to live as lay people," Daily said. "This is their sacrifice."

With several hundred looking on, Junette Maria Romero of Flatbush and Angela Scannapieco of Williamsburg donned white wedding-like gowns yesterday, took their vows of celibacy and received rings to mark their status.

She told the story of her vocation this evening:

Growing up in Brooklyn, Scannapieco, 43, was taught by nuns, so the convent life was "attractive to me." But when she was in her twenties — the age most women enter convents — "I was away from the church a little bit. I did the bar scene. I went through that stage — 'I'm free now, I'm 21!'

Still, there were limits to her partying. "I grew up with the idea that you didn't have sex until you got married," she said. "I wasn't planning on being a consecrated virgin when I was 20, 21. I thought, 'Okay, it'll happen eventually when Mister Right comes along.' "

Then a friend asked her to teach Sunday school, and she loved it. She now works for Youth 2000 New York, organizing retreats for young Catholics. The wall over her desk is covered with photos of who she calls her "spiritual children" — girls and young women who call her "Ma," send her their college graduation photos, and drop by to join her for Mass. Her relationship with them was a "big motivating factor" in consecrating her virginity.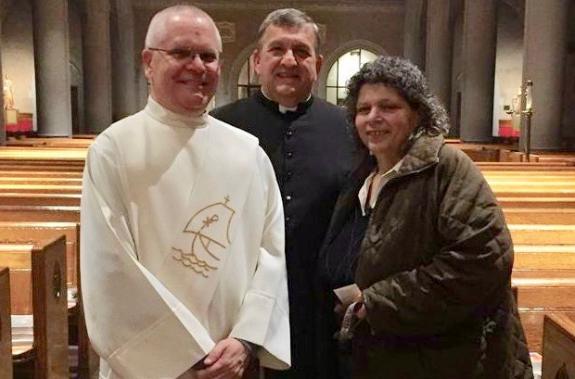 My friend Joe Campo paid tribute on Facebook:
Angela and I met almost 30 years at a Youth 2000 retreat. I was trying to launch a Eucharistc youth movement in NYC. Immediately I recognized in Angela a kindred spirit, and we quickly went from acquaintances, to friends, to brother and sister. Through the years, we've shared in joys and sorrows, we've laughed, and like good siblings we've argued with each other. But through it all we've never stopped loving each other, and we've always would drop everything if the other was in trouble. In these past three weeks as Angela was preparing to go home I consider it an honor and a privilege that the Lord allowed me the time to sit at her bedside and care for her. God has given us both the gift of many spiritual children through the years. As I sat at her bedside we reminisced about the many adventures we shared together with our "kids". We shared a bond like none other, where sometimes words weren't necessary, all it took was a look and we understood each other. Now my sister has gone home to be with her heavenly spouse, and even though I will miss her, her memory will remain in my heart. I love you my sister, until meet again.
She was also featured on NET TV:
A Go Fund Me page has been set up to help pay for the funeral. You can learn more here.
Eternal rest grant unto her, O Lord, and let perpetual light shine upon her…