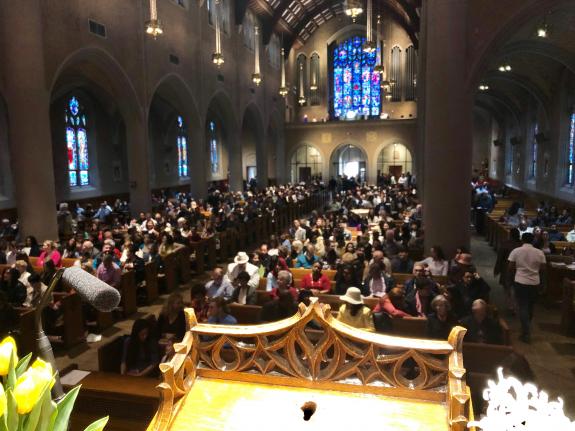 Well, yes, the church was packed. 
It started that way on Thursday and continued all the way through Easter Sunday. Our church, Our Lady Queen of Martyrs in Forest Hills, New York, seats close to 1,000 people, and I'd wager that most the liturgies had at least 700 people — a few had over 1,000. There were standees at some of the Masses over the weekend, and some even spilled into the vestibule. (As I ventured back there during the sprinkling rite on Sunday, I called out, "If anyone is still dry, raise your hand!" ) There were a lot of faces I recognized, and many I didn't, and that's often the way it is at Christmas and Easter.
There were a few women with hats — or, I guess, bonnets — and I noticed some wearing veils. I spotted a couple little girls wearing rabbit ears. Some men wore jackets and brightly colored ties. Most folks were dressed in the usual Catholic Sunday attire: comfortable casual. Polo shirts were big.
The first thing that struck me as unusual (for Easter, at least) was the number of people attending the Masses who actually seemed to know what to do and how to do it. There were very few awkward communions — you know the kind, where they approach with both their hands outstretched and their mouths open and don't know what to say, so sometimes just say "Happy Easter, thank you."  But most of those I encountered approached the sacrament with a spirit of cheerful piety and familiarity. Some parents carried their children — I noticed a few little girls wearing what appeared to be their white baptism outfits — and the overall demographic seemed younger than what we usually have at my parish. I presumed they were children of parishioners, visiting from out of town.
But a priest in the parish pointed out something I otherwise wouldn't have noticed: it may have been packed, but it wasn't mobbed. "It's not what it was," he mentioned later over coffee in the rectory.  "I remember Easters when it was jam-packed at every single Mass, even the 8:30."
He's right. The numbers are definitely down.
My most vivid memory of the Easter crowds was in 2006, the Easter after John Paul had died. The world had watched hours of coverage of the most extraordinary funeral rites in modern memory, as thousands in the square called out "Santo Subito" — sainthood now! It was spellbinding. And it reminded Catholics — and many others — of the ancient and venerable history of our faith, and just what it represents. Perhaps it tugged at people's memories of the Church they grew up in, and it made them yearn to be a part of it once again.
So maybe we shouldn't have been surprised when the following Easter brought hordes of people to church — some, perhaps, after years of being away. I remember going back into the vestibule that Easter to give out communion and being amazed. Not only were they packed in, shoulder to shoulder, but the doors were open and people were spilling out into the sidewalk. It was incredible. I've never seen anything like it, before or since.
I wonder if we'll ever see anything like it again. 
The crowds this Easter were impressive but not like that.  And, in fact, there's been a steady slide in attendance for the big liturgies at my parish over the last decade or so. This year's drop was noticeable. But I imagine it's been happening slowly but persistently for a long time. Masses that used to be SRO may still have standees, but when we process in for the beginning of Mass, I can't help but notice a lot of empty spaces in the pews. I wonder who those spaces belong to, and where they are today. I wonder what we can do to draw them back.
You can offer a lot of theories for why this is happening: changing demographics in the community, a growing indifference toward religion, the still-unfolding scandal, etc. All, I'm sure, tell part of the story.
The priest I was talking with Easter morning remembered a conversation he had with our late pastor one Easter, about the incredible crowds that kept showing up. "I used to tell him," he remembered, "Joe, can you imagine if we had this many people every week? We wouldn't know what to do with them!"
It would be a nice problem to have.
Yet, there are many who still want to be there. Despite the decline, there is an impressively large number of faithful who show up on Easter morning — to hear the music, to smell the flowers, to inhale the clouds of incense and take the host in hand and know, in their bones, they are clasping the divine. Greeting them after Mass on Sunday, standing under the bright April sun, they cried out "Happy Easter" and wished me well.  You couldn't help but have a sense of abiding joy.
This, I thought, is Easter — the miracle of new beginnings, the glory of "the one morning star who never sets," the radiance of Christ's light being carried into the world, believer by believer.
This is what Easter truly is — even if, in some places, Easter just isn't what it was.