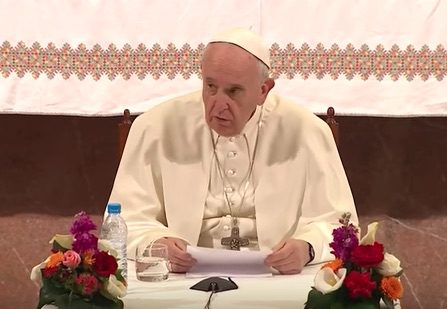 AFP reports:
Pope Francis on Sunday warned Catholics in Morocco against trying to convert others to boost their small numbers, during a rare visit by a pontiff to the North African country.

Speaking in Rabat's cathedral on his second day in the Moroccan capital, Francis insisted trying to convert people to one's own belief "always leads to an impasse."

"Please, no proselytism!" he told an audience of around 400, who greeted the pope's arrival by ululating and applauding, while hundreds more gathered outside the cathedral.

Christians are a tiny minority in Morocco where 99 percent of the population is Muslim, with sub-Saharan Africans making up a large part of the country's 30,000-strong Catholic community.
The official Vatican text has it rendered this way:
Our mission as baptized persons, priests and consecrated men and women, is not really determined by the number or size of spaces that we occupy, but rather by our capacity to generate change and to awaken wonder and compassion. We do this by the way we live as disciples of Jesus, in the midst of those with whom we share our daily lives, joys and sorrows, suffering and hopes (cf. Gaudium et Spes, 1). In other words, the paths of mission are not those of proselytism. Please, these paths are not those of proselytism! Let us recall Benedict XVI: "the Church grows not through proselytism, but through attraction, through witness." The paths of mission are not those of proselytism, which leads always to a cul-de-sac, but of our way of being with Jesus and with others.
Is that something revolutionary? A few people on social media protested that Francis was saying something that goes against Church teaching. But as you can see above, he alluded (quite deliberately, I think) to comments by Benedict XVI.
Benedict expanded on that thinking in a homily in 2007: 
The Church considers herself the disciple and missionary of this Love: missionary only insofar as she is a disciple, capable of being attracted constantly and with renewed wonder by the God who has loved us and who loves us first (cf. 1 Jn 4:10). The Church does not engage in proselytism. Instead, she grows by "attraction": just as Christ "draws all to himself" by the power of his love, culminating in the sacrifice of the Cross, so the Church fulfills her mission to the extent that, in union with Christ, she accomplishes every one of her works in spiritual and practical imitation of the love of her Lord.
And similar remarks were made by St. John Paul, who issued the following
declaration
in 1987 with the Ecumenical Patriarch:
Let us renew our common commitment before God to promote the dialogue of charity in all possible ways, following the example of Christ who nourishes his Church and surrounds her with the attentions of his charity (cf. Eph 5:29 ). In this spirit we reject any form of proselytism, any attitude that would or could be perceived as a lack of respect.
John Allen expanded on all this a few years ago: 
Francis rarely misses an opportunity to condemn what he calls "proselytism." He famously called it "solemn nonsense" in a 2013 interview, and during an ecumenical vespers service Sunday evening at the Basilica of St. Paul's Outside the Walls he called on all Christian churches to reject "proselytism and competition in all their forms."

So, which is it? Are Catholics supposed to be trying to convert people and bring them into the Church, or not?

To begin, Francis' rhetoric on proselytism is absolutely nothing new. Popes John Paul II and Benedict XVI made the same distinction between proposing the faith – understood to be a good thing, indeed obligatory – and imposing it through aggressive or coercive techniques, which they also saw as wrong.

Here's something to think about: When Pope Francis blasts "proselytism," he really may not be talking about, or to, Catholics at all.

In that regard, it's important to remember that Francis' primary frame of reference is as a Latin American pastor. There's no part of the world that's seen more organized and aggressive campaigns of proselytism in the last quarter-century or so, and for the most part Catholics have not been the architects of those efforts.