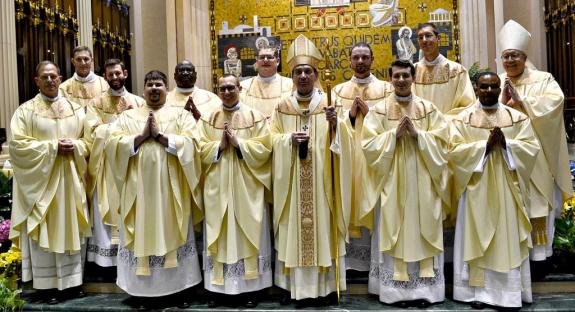 In a word: workload.
I spotted this story about the ordination of priests last weekend in Cincinnati.
The good news: it's the largest ordination class for the diocese in 40 years.
But then there's this: Most of the men have multiple assignments. This, of course, is becoming the norm in more and more places around the country— and would have been unthinkable to priests who were ordained before most of these men were born.
A few have actually been assigned to serve in clusters with four different parishes:
It has been 40 years since the Archdiocese of Cincinnati has celebrated the ordination of nine or more men to the priesthood. This historic ordination marks a recent high in the number of men ordained in a given year. Over the last decade there have been other large classes, including seven men in 2009 and seven men in 2016.

The men ordained with their assignments are:

Father Alex Biryomumeisho: Parochial Vicar at St. John Fisher, Newtown & St. Veronica, Mt. Carmel

Father Mark Bredestege: Parochial Vicar at Clermont Catholic Communities of St. Ann,Williamsburg; Holy Trinity, Batavia; St. Louis, Owensville and St. Philomena, Stonelick

Father Zach Cecil: Parochial Vicar at St. Theresa of Avila & St. William, Cincinnati

Father Christian Cone-Lombarte: Parochial Vicar Ft. Recovery cluster of St. Joseph, St. Joseph; Mary Help of Christians, Ft. Recovery; St. Paul, Sharpsburg; St. Peter in St. Peter.

Father Ambrose Dobrozsi: Parochial Vicar at Dayton XII Pastoral Region of St. Adalbert, Holy Cross, Our Lady of the Rosary, and St. Peter, Huber Heights

Father Andrew Hess: Parochial Vicar at Holy Angels Sidney and faculty at Lehman High School

Father Elias Mwesigye: Parochial Vicar at St. Susanna, Mason

Father Jeff Stegbauer: Parochial Vicar at Immaculate Heart of Mary, Anderson Township

Father Jedidiah Tritle: Parochial Vicar at All Saints, Montgomery and St. Vincent Ferrer, Kenwood

The nine new priests will contribute to the growing trend of men being ordained priests over the last decade. According to an annual survey by Georgetown University, there will be 481 men ordained to the priesthood in the United States in 2019 – an increase of 17% over the 401 men ordained in 2008. The nine men being ordained to the priesthood from the Archdiocese of Cincinnati constitute one of the largest classes this year in the country.
Congratulations to one and all!
But there is so much work to do in the vineyards. Pray for our priests. Pray for vocations!