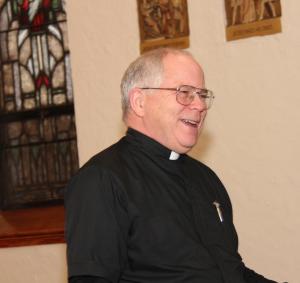 My friend Msgr. Michael Hardiman from the Diocese of Brooklyn is moving to a new assignment, to pastor another parish, and he posted this message today on Facebook, from his parish bulletin.
You probably don't know Msgr. Hardiman, but you probably know priests like him.  This is a lovely summation of what it means to be a parish priest.
A Message from the Pastor

When I was ordained a deacon and sent to St. Pius V in South Jamaica, Queens it was common practice to be addressed as "Deacon FirstName"; when I was ordained a priest one year later, I continued to be "Father Michael." When I went into the Education Office I adopted the more formal "Father LastName."

One of the teachers at St. Pius, Patricia "Patty" Slattery (First Grade), who went home to God last year, wrote the following as I was honored by the school many years later.

"Let me begin by explaining that as I refer to Father Hardiman as Michael I mean no disrespect. Many of us know him as Michael. He frequently introduces himself by saying: 'Hi, I'm Michael Hardiman.' Even the children of St. Pius refer to him as Father Michael.

The first time I met Michael I was waiting to sign my contract at St. Pius. He was in the school office on the telephone and his laughter filled the hallways. I remember thinking 'Who is this guy?'. He moved about as if he owned the place. I soon discovered it wasn't ownership he possessed but membership. He had made himself a member, not just of the parish or school, but of the community. His gift to St. Pius was the giving of his whole self.

Michael could be found in the classroom, chatting outside the church, on the six o'clock news,
at weddings, baptisms and funerals.

I loved to hear his voice echoing through the halls of the school. I knew he'd be in to see the children. I loved knowing that my students would grow up making the connection between a Roman collar and a smiling face. He would read to them, go on field trips, teach religion classes, act as a sub — even paint the building to create a little red schoolhouse. Michael was there for the students, faculty and the parents. He shared his talents and spirituality with all for us. We could always count on him for a much needed lift or some words of encouragement. Even on the days when he was heading out to the beach, while we sweltered in our classrooms, he would stop by to tell us he'd be thinking about us as he sat at the shore. I remember how the children would look at him in his 'play clothes' and ask: 'Father Michael, where's your uniform?'

Michael once said that he'd like to be remembered as a churchman and he probably will be. He always maintained that we must hold to the kingdom values and the church teachings. But there are memories which will go beyond churchman; he will be remembered as a loving son, nephew, cousin, godfather, "uncle", confessor, teacher, preacher, superintendent and friend."

As I was leaving St. Pius, Patty and the First Grade came up with a hand printed T-shirt, too beautiful and too small for me to wear. It was in the style of a dictionary definition: Priest\prēst \n. one who is a friend, storyteller, nurse, educator, comedian, church person, good sport, loved one. Special person, as in 'My friend Father Michael is a priest.'

In 1978, my priesthood ordination cover was taken from the Mass on the World by Teilhard de Chardin ( a French Jesuit Anthropologist): "Lord, I your priest will make the whole earth my altar and on it will offer you all the labors and suffering of the world." With all my heart, so have I hoped and tried to do so while I was here at St. Patrick.

Our Lady, Undoer of Knots, pray for us!
God bless,
MJH
God bless, Father Michael, and good luck at your new parish!