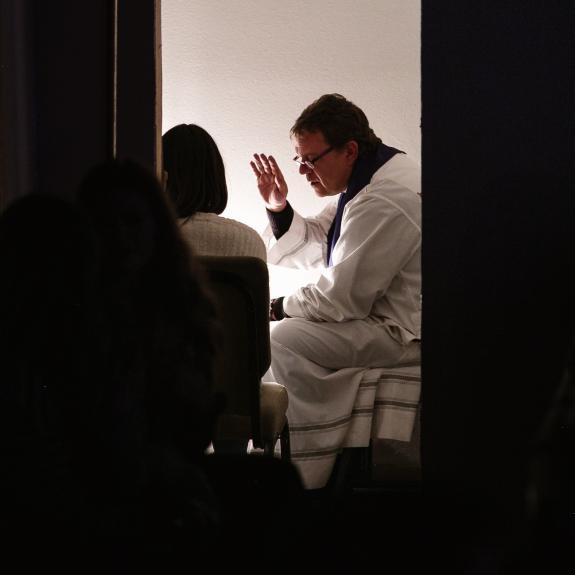 This is an inspired idea for evangelization. Details:
The sun was peeking through the clouds, the birds were chirping, and confessions were being heard at St. Mary's Park in Monroe on a warm Monday night in June.

Approximately 40 Monroe County residents received the sacrament of reconciliation or enjoyed meaningful conversations over two hours during the Monroe Vicariate's "Priests in the Park" event, sponsored by the vicariate's Evangelization and Catechesis Committee.

From beginning to end, the four priests involved — Fr. David Burgard, pastor of St. Mary of the Immaculate Conception Parish in Monroe; Fr. Giancarlo Ghezzi, PIME, associate pastor of St. Mary; Fr. Bob Singelyn, a priest in residence at St. Mary; and Fr. Jim Rafferty, pastor of St. Mary, Our Lady of the Annunciation in Rockwood — were completely occupied during their hour time slots, listening to confessions, providing practical spiritual guidance and offering absolution from sins.

It was the second such event for the Monroe Vicariate. In May, Fr. Burgard, Fr. Ghezzi, Fr. Phil Ching, pastor of St. Michael the Archangel Parish in Monroe, and Fr. Raymond Arwady, pastor of St. John the Baptist in Monroe, offered confessions to approximately 30 people.

"This was a very different and new experience for me. I honestly didn't know what to expect," Fr. Burgard said of the May outing. "It ended up being a joyful and beautiful day that I was glad to be a part of. And I was very surprised by the large turnout."

In addition to confessions, on June 17, the priests were joined by musical duo Nick & Alina and Dynamic Catholic author and speaker Dr. John Wood, who offered entertainment and spiritual inspiration to approximately 200 adults, teens and children gathered at the park.

As the priests were hearing confessions, a team of evangelists from St. Paul Street Evangelization actively sought out conversations about the Catholic faith with curious passersby.