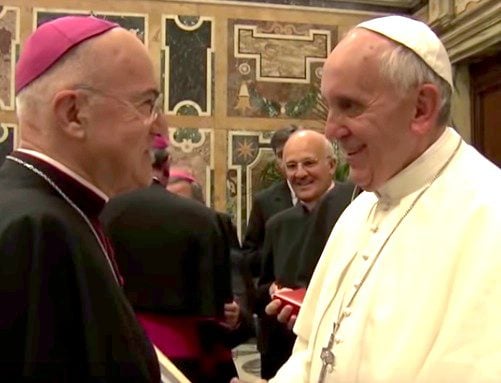 From The Washington Post:
In the instant he became one of the most controversial figures in modern Catholic Church history, Archbishop Carlo Maria Viganò went dark.

The retired Vatican ambassador to Washington wrote a bombshell letter last summer calling on Pope Francis to resign on the grounds that he had tolerated a known sexual abuser. As that letter was published, Viganò turned off his phone, told friends he was disappearing and let the church sort through the fallout.

Nine months later, in his first extended interview since that moment, Viganò refused to disclose his location or say much about his self-imposed exile. But his comments indicate that, even in hiding, he is maintaining his role as the fiercest critic of the Francis era, acting either as an honorable rebel or, as his critics see it, as an ideological warrior attacking a pope he doesn't like.

Viganò corresponded by email with The Washington Post over two months, writing 8,000 words in response to nearly 40 questions. He was blistering in his criticism of Francis, saying "it is immensely sad" that the pope was "blatantly lying to the whole world to cover up his wicked deeds."

The Vatican has had little official response to Viganò. A communications official declined to comment for this article. But Francis last month responded for the first time to Viganò's letter. The pope said he knew "nothing, obviously nothing" about the misconduct of then-Cardinal Theodore McCarrick and could not remember whether Viganò had warned him about McCarrick in 2013. Viganò said he told Francis that McCarrick had "corrupted generations of seminarians and priests."

"How could anybody, especially a pope, forget this?" Viganò wrote to The Post.

In his correspondence with The Post, Viganò offered detailed thoughts about church dealings, but he resisted personal questions — and he declined requests to meet in person. Viganò wrote that he has become "more careful about whom I meet and what I say." He said questions about him were "irrelevant to the serious problems facing the Church."

"My life is quite normal, thank you for asking," he wrote.

Viganò wrote "n/a" in response to questions about where he is living, whether he believes his safety is under threat and how his actions in August have otherwise altered his life.

He wrote that the Catholic Church has not contacted him since several conservative church news outlets initially published his accusations. He described himself as an "old man" who "will be appearing in front of the Good Judge before too long."
His full exchange with The Washington Post can be read here.