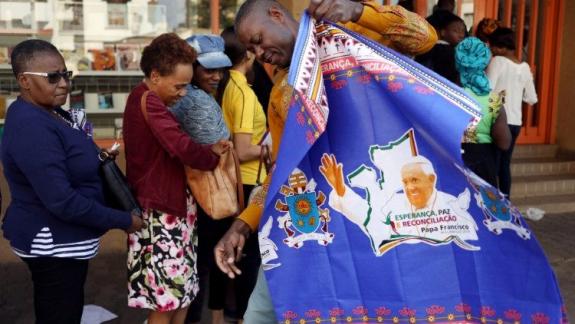 From historian Elizabeth Foster in The Washington Post, a story that helps put Francis's visit to the continent in context:
Pope Francis began a three-nation Africa tour last week, and for good reason. Africa has the fastest-growing Catholic population on the planet, which is projected to reach nearly 350 million by 2050.

As Francis reaches out to this growing population of the faithful, he would do well to look to the history of Catholicism in the region. He should do so not just to connect Catholic Africans to their past, but to underscore his own message of change. As a reformer who seeks to shake up the church, Francis can draw inspiration from Africans who played a key role in the reorientation of Catholicism in the 1950s and 1960s.

Francis's visit comes at a moment when Catholicism is in the midst of a titanic shift, comparable in historical importance to its early spread in the Roman Empire or to the upheavals of the Protestant Reformation. The church's strength in its longtime strongholds in Europe is evaporating. Priestly vocations are so rare there that bishops increasingly rely on clergy from Africa to lead their churches. In 2015, for example, there were over 1,000 francophone African priests working in France.

The church's growth in Africa is part of its stunning success in the global south, which the election of Francis, the first Latin American pope, reflects.

What is equally remarkable is that the Catholic transformation in Africa has come about in the space of only two generations. Consider the fact that there were no modern African saints in the church until 1964, when Paul VI canonized the Ugandan martyrs during the Second Vatican Council. Moreover, no sitting pope had set foot in sub-Saharan Africa until 50 years ago, when Paul went to Uganda to visit the new saints' shrine in the summer of 1969.
Read on. And learn why a man by the name of Alioune Diop had a profound influence on the Church in Africa and, in fact, around the world — an influence we are still witnessing today. It also explains why we may see an African pope sooner rather than later.