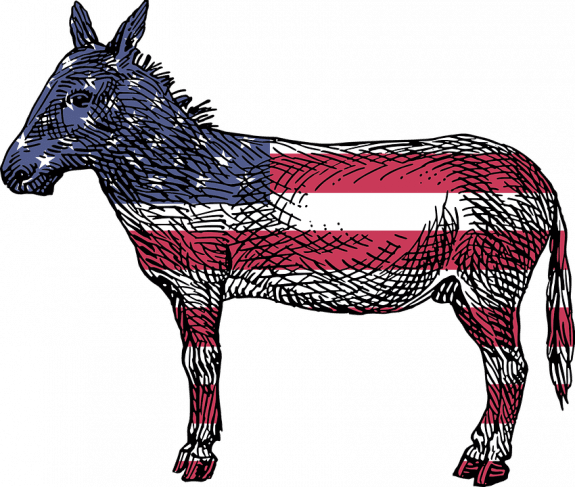 Good question.
The Deseret News takes a look: 
"There are Christians who would like to vote for Democrats and don't want to feel like Democrats are sneering at them for their stupid, old-fashioned religiosity," said Stephen Prothero, a religion professor at Boston University, to the Deseret News last week.

There was no sneering Thursday night, but there were also no direct appeals to religious voters. Some candidates alluded to religious concerns, but they did not address religion as openly as they have in previous debates or on the campaign trail.

During his opening remarks, Sen. Cory Booker of New Jersey referenced a "churchwoman" who served as a mentor soon after he began working in inner-city Newark, New Jersey, more than 20 years ago. He talked about her calls to be optimistic and recalled her saying "Without vision, the people will perish."

Many people following the debate on Twitter noted that the quote comes from the book of Proverbs in the Bible.

Booker also referenced Bryan Stevenson, a Christian human rights activist who has fought for criminal justice reform, as he talked about systemic racism in the U.S. However, he did not talk about biblical calls to care for one another, as he has in the past.

Similarly, Mayor Pete Buttigieg of South Bend, Indiana, acknowledged that faith has a role to play in the immigration debate. We should let "our values, the values of faith that all argue for us to manage this humanely," he said.

…However, in a country where 90% of citizens believe in a higher power, candidates should be willing to reflect from time to time on the role of religion or spirituality in their own lives, as Prothero noted.