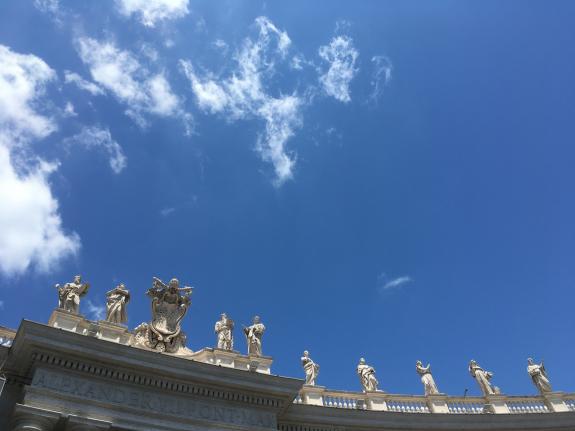 From RNS: 
The ordination of married men has been a recurring topic at the synod.

Those participating in the meetings do not approach the issue from an ideological perspective. There has been no talk of the "right" of priests to marry or that celibacy is a bad idea. No one is advocating letting already ordained men marry; rather they propose allowing the ordination of men who are already married.

The approach of those in favor has been pragmatic. If the Eucharist and the sacraments are essential to a Catholic community, they say, then the communities need priests. If there are not enough celibate priests, then the church needs to ordain married men.

One Amazonian bishop explained that he had so few priests that it would be like Italy having only 25 priests to serve all its Catholics. Other bishops talked of villages that celebrate the Eucharist at most only two or three times a year. Those supporting the ordination of married men say the priest should not just be a visitor, but a permanent presence in the community.

But it is not just isolated villages that lack priests. Bishop Carlo Verzeletti, who oversees the Diocese of Castanhal, near Belém, in northern Brazil, noted that he has a city with 150 Pentecostal churches, while Catholics have only 50 churches due to the shortage of clergy. Often people attend a Pentecostal church because it is the only place to worship in their village or their neighborhood.

But allowing married priests is only part of the solution. Many bishops spoke of the importance of good training and formation for lay and clerical leaders.
Crux picked up on this trend, too, noting some developments at today's session: 
Once again the Synod of Bishops for the Amazon is pondering the idea of married priests, with a Vatican news bulletin Tuesday indicating that someone during the morning session raised the possibility of a "faculty to dispense from celibacy in order to be able to ordained married men as 'ministers,' under the supervision of a responsible priest."

In keeping with its custom, the Vatican provides a daily list of who spoke during the synod and a synthesis of the content, but it does not identify which speakers made specific points.

"Facing difficult situations that are lived in the Amazon, important responses arrive from the Eucharist, through which the grace of God passes," Tuesday's synthesis says, attempting to summarize the morning's discussion.

Those responses to difficult situations, it said, also come "from a diffuse concept of ministry, beginning with women, who are the unquestioned protagonists when it's a question of transmitting a radical sense of life."

"Perhaps it's worth asking if it's not time to rethink ministry," the synthesis said. "Many communities, in fact, have difficulty celebrating the Eucharist because of a lack of priests; it was suggested, therefore, that the criteria for selecting and preparing authorized ministers to celebrate the sacrament be changed, so that it's not available only to a few."

Questioned during an Oct. 15 press conference about how to provide sacraments, particularly the Eucharist, to communities that only celebrate the Liturgy of the Word and not Mass since there are no priests to celebrate it, Bishop Eugenio Coter, Apostolic Vicar of Pando in Bolivia, said the question is one of the "sacramentality" of the Church involving more than access to the Eucharist, but other sacraments such as Confession and the Anointing of the Sick.

The topic "is developing every day," including possible solutions, he said, adding that the suggestions being made, including married priests and a possible temporary form of ordination, "need to be deepened."