"I deeply regret that Mr. Giuliani received the eucharist during the papal visit here in New York."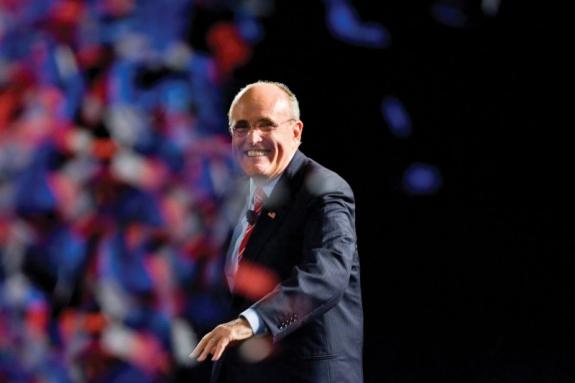 With all the controversy swirling around Joe Biden being denied Holy Communion, some may have forgotten when Rudy Giuliani received the Eucharist — and caught hell for it after.
It was at a Mass celebrated by Pope Benedict during his visit to the United States in April of 2008.
From The Daily News:
With his third wife standing next to him, the twice-divorced, pro-abortion, former Mayor was given the Eucharist by a priest standing next to the Pope.

Outside the mass, actress Joanne Perry, said Giuliani was "notoriously pro-choice, and I feel awful, just awful, about him getting Communion. He knows better."
Paula Darceuil, 44, of the Bronx, agreed, "I feel sad, because if I was ever married and got divorced, I would not go to Communion, because I respect the church – and he should respect the church."
Asked if he felt uncomfortable about taking the sacrament Giuliani replied, "no."
Shortly after, the cardinal archbishop of New York, Edward Egan, weighed in:
Cardinal Edward M. Egan said on Monday that former Mayor Rudolph W. Giuliani should not have received holy communion during the visit of Pope Benedict XVI because Mr. Giuliani supports abortion rights.

Cardinal Egan, head of the Archdiocese of New York, said in a statement that he and Mr. Giuliani had reached "an understanding" when he became archbishop in 2000 that Mr. Giuliani "was not to receive the eucharist because of his well-known support of abortion."

"I deeply regret that Mr. Giuliani received the eucharist during the papal visit here in New York," the cardinal said.

He said he would like to meet with Mr. Giuliani "to insist that he abide by our understanding" about not receiving communion.

A spokeswoman for Mr. Giuliani, Sunny Mindel, said that the former mayor was willing to meet with the cardinal, but she did not address any of the specifics in the cardinal's statement. Ms. Mindel added that Mr. Giuliani's faith "is a deeply personal matter and should remain confidential."

The cardinal's statement, posted on the Archdiocese of New York's Web site, appeared to be a turn for the cardinal, who said a year ago: "I don't believe in getting into politics. I don't believe in getting into political conflict. I do believe in getting into matters of morality and ethics."

The new statement came on the same day that the columnist Robert Novak asserted that allowing politicians who support abortion rights to take communion during the papal visit "reflected disobedience to Benedict by the archbishops of New York and Washington."

The cardinal's statement, [archdiocesan spokesman Joseph] Zwilling said, was prompted by Mr. Novak's column and by comments from others about elected officials who had received communion. "The cardinal felt it was important to clarify what had been the understanding, and to address it publicly," he said.
And there is something of a backstory. All of this came after Rudy had a dustup with then-Archbishop Raymond Burke:
Republican Rudy Giuliani on Thursday brushed aside criticism from Roman Catholic Archbishop Raymond Burke who said he would deny Holy Communion to Giuliani and any other presidential candidate who supports abortion rights.

"I'm not running for religious office," Giuliani told reporters during a brief appearance at a coffee bar in a St. Louis suburb.

"I'm not going to debate the opinion of an archbishop of the Catholic Church or an official of the Protestant Church or a rabbi," Giuliani said. "That's an interpretation of religion. They're entitled to their interpretation of religion."

On Wednesday, Burke, the archbishop of St. Louis, was asked if he would deny Communion to Giuliani or any other presidential candidate who favors abortion rights.

"If any politician approached me and he'd been admonished not to present himself, I'd not give it," Burke told The Associated Press. "To me, you have to be certain a person realizes he is persisting in a serious public sin."

Asked if the same would apply to politicians who support the death penalty or pre-emptive war, he said, "It's a little more complicated in that case."

Giuliani, a Catholic, would not be permitted to receive Communion under church law because he is remarried without having his second marriage annulled.